Playmats
Puzzlemat LUNO
The lowest price of the last 30 days before the discount:
Product available only by pre-order
At this time you have the opportunity to pre-order this product through our official website.
Pre-orders Closed
Unfortunately, we are unable to accept orders in excess of the quantity our store expects to receive. Once all available pre-order slots are filled, we will not be able to accept new orders for our products.
Free delivery from £50
Buy by 12 am - delivery in 4 business days
Pay in a simple, fast and more secure way
Main advantages
Non-toxic, safe for children
Excellent insulation and cushioning
30 puzzle piece-shaped floor tiles included in the set
Multifunctional foam mat
MULTIFUNCTIONAL FOAM MAT
MULTIFUNCTIONAL FOAM MAT
LUNO is the perfect base for lying down, playing, crawling and taking first steps! Thanks to the highest thickness available on the market and special materials, LUNO protects your child against falls and provides the child with optimal thermal insulation. The large number of puzzle tiles allows you to spread the mat over a larger area to ensure great fun without unnecessary mess.
Key benefits
Designed in Europe
The European New Product Development Department makes sure that products offered by Kinderkraft are as good as possible in terms of functionality and safety, and that they follow the latest design trends. The department is made up of competent people with many years of experience in the children's products industry, and many of them are parents.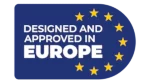 Key features
NO HARMFUL SUBSTANCES
Your child's safety is very important! That is why it is worth getting the LUNO mat, which has all the necessary certificates and is made from materials that don't have a negative impact on your child's and your family's health.
WATERPROOF AND EASY TO CLEAN
LUNO guarantees that your toddler has great fun while you have a moment to yourself. You don't have to worry about the child's safety or... the floor's condition. The mat provides protection against liquid and food stains by keeping them on the foam surface. Just wipe off stains with a cloth and you can return to playing.
A CONFIGURATION THAT DEVELOPS THE CHILD'S IMAGINATION!
LUNO can be assembled in any pattern and it can create three-dimensional shapes. The neutral colours, simple design and anti-slip puzzle piece-shaped tile structure will encourage children to play and develop their imaginations.
Other features
CONVENIENT STORAGE AND TRANSPORT
The puzzle pieces of LUNO mats are extremely light and handy, and their transport is facilitated by an included bag. So, wherever you're going, your child can feel at home!
PERFECT FOR ANY INTERIOR
LUNO consists of up to 30 elements with a total surface area of 150 x 180 cm, which makes it possible to adapt to any space and even replace the carpet with puzzle tiles. Thanks to the colours used, you can be sure that the mat will blend in perfectly with your home.
Product features - Video
The presented video is not a commercial offer, it is only made for preview purposes. It applies to a group of products with a similar or the same assembly, slight differences may appear (e.g. no accessories).
Specifications
Dimensions:
Materials:
Foam

With the highest thickness on the market, non-toxic and containing NO: BPA, formaldehyde and phthalates
Materials
Foam

With the highest thickness on the market, non-toxic and containing NO: BPA, formaldehyde and phthalates
Additional data
| | |
| --- | --- |
| For children aged | from tenth month of life |
| Weight | 2 kg |
| Dimensions | mat dimensions when assembled: 150 x 180 cm, dimensions of the middle puzzle: 31.5 x 31.5 cm, thickness 1.2 cm |
| Standards | the product meets the following safety standards requirements: EN 71-1, EN 71-2 and EN 71-3 Safety confirmed by the INTERTEK Institute |
| The set includes | cover |
| Cardboard / packaging dimensions | 34 (length) x 40 (width) x 36 (height) cm |
Did you buy this product?
Share your opinion
LUNO
LUNO is a perfect place for lying, playing, crawling and taking first steps! It is a puzzle foam mat - it is very thick, so it provides the little ones with a suitable surface for playing, resting and learning. It will protect your baby from falling, and at the same time it will isolate your baby from the floor. Thanks to a large number of elements you can spread the mat over a larger area (150 x 180 cm) where your child will be able to play without unnecessary dirt. LUNO will protect your floor - if your child spills something, you can easily clean the mat with a soft cloth. In addition, the contrasting puzzles stimulate the sight of the youngest children and also look very aesthetic. You can take LUNO with you on a trip - you can easily fold the puzzles and put it in the included bag.
LUNO foam mat
A safe place to play for a child is essential! It cannot pose a threat, must provide good insulation from the floor and be of an appropriate size. You can organize such a space with the help of a multifunctional foam mat from the LUNO puzzles. The mat consists of as many as 30 elements that can be arranged according to your needs. It is made of safe materials, it is easy to clean, its transportation is convenient, and in addition, it can be used at the same time as an attractive and imaginative puzzle set that can be arranged in 3D solids.
Safety. Your child's safety is our priority. Therefore, no toxic, harmful substances (BPA, formaldehydes and phthalates) were used in the production of the LUNO foam mat. We made sure to meet a number of safety standards: EN 71-1, EN 71-2 and EN 71-3. In addition, we have confirmed the safety of the product at an independent INTERTEK institute. The aesthetically finished outer edges of the puzzles also guarantee greater safety, because they are rounded, which significantly reduces the risk of tripping. On the other hand, the non-slip, rough surface provides good adhesion.
Functionality. No dirt, no fun! Thanks to the LUNO foam mat, you will not have to follow your child with a cloth for fear of the condition of the floor, because everything that happens on the mat stays on the mat. LUNO does not leak and a wipe with a cloth is enough to keep it clean. We are proud that our mat is one of the thickest among the ones available on the market (up to 1.2 cm!), which provides excellent insulation from the floor, as well as great shock absorption, which you will appreciate when your toddler tries to take their first steps. The set consists of as many as 30 elements with a total area of 150 x 180 cm, which gives many configuration options. LUNO will work both in large spaces and in small rooms You can adjust its size and arrangement as needed. Thanks to its universal colours it will look well in any interior, which is worth mentioning, and the contrasting colours make the mat attractive also for the youngest children.
Mobility. The great advantage of the LUNO foam mat is its portability. The puzzles are exceptionally light (the whole set weighs only 2 kg) and handy, in addition, the set includes a 34 x 40 x 36 cm bag. You can pack all the elements in it and easily take it wherever you want to make your little one feel at home everywhere.
Creativity. LUNO is not only a space to play, but also an independent toy. In addition, it develops creativity and imagination! It takes the form of puzzles that can be arranged in any pattern - even three-dimensional shapes! The simplicity of the design encourages children to experiment while playing!
Educational mate. Which one to choose?