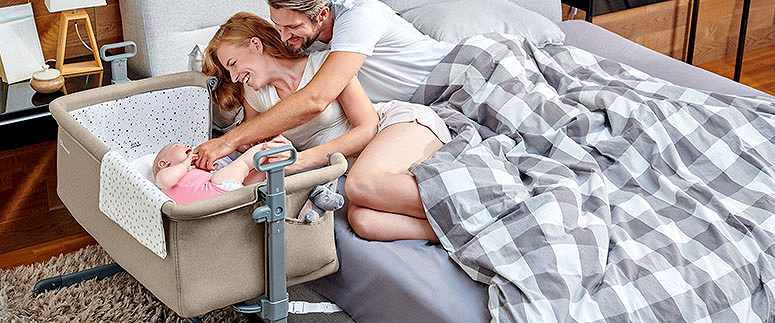 Sometimes the best plush toy, lullaby or bedtime story told by dad aren't able to help your child fall asleep. Each baby is different: some sleep through the night without a problem, while others need to feel close to the parents, otherwise they wake up in tears. In such a situation, a co-sleeper cot is a great solution. It'll help both you and your infant fall asleep. Co-sleeper cots make night feeds much easier. No more wandering around the house at night. Our co-sleeper cots can easily act as independent cots that can be used during the day. You can go about your business knowing that your little one is safe, and you can keep an eye on them at all times.
Co-sleeper cots
Closeness to the parents is very important for babies. If your child is unable to fall asleep at night, the parents' bedroom becomes a safe space that can bring peaceful sleep after night-time tears. However, you must look after good sleep not just for your youngster, but your own as well. The ideal solution is a co-sleeper cot in which your littlie will feel safe because you're close by, but also get their own safe space to sleep.
Why's it worth having a co-sleeper cot?
Co-sleeper cots are multi-taskers. At night, they act as guardians for your child's sleep and as your helpers, and during the day, they transform into companions for day naps. This is very convenient, both for your and your baby's comfort.
Some co-sleeper cots can also act as travel cots. Check out our UNO UP cot – thanks to the easy folding and bag that comes with the set, you can take it on trips.
Co-sleeper cots have adjustable mattress height options. This makes it easy for you to adapt to your bed. Thanks to our co-sleeper cots, e.g. NESTE UP and NESTE AIR, also have the option of adjusting the angle of incline of the mattress. This is particularly useful when your little one is unwell and you want to make it easier for them to breathe.
More than just a co-sleeper cot!
A cot must meet many challenges to make everyday life easier for both parents and children. Different accessories can help by simply transforming a cot into something more than just a place to sleep.
For co-sleeper cots, an important convenience is a well-developed fitting system based, for example, on long straps and adjustable legs. This is an additional safeguard for your little one, who sleeps in the co-sleeper cot.
Another important element to consider when choosing a co-sleeper cot is a suitable mattress. The dimensions of co-sleeper cots are often not standard, so it's not worth putting off the purchase of a mattress – choose a model that it comes included with, such as UNO UP. If the mattress is also firm, we can start using the term "perfect cot": this is a great solution for infants frequently recommended by physiotherapists. In addition, the mattress that comes with UNO UP comes with a soft sheet.