Baby carriers
Baby carrier MILO
The lowest price of the last 30 days before the discount:
Product available only by pre-order
At this time you have the opportunity to pre-order this product through our official website.
Pre-orders Closed
Unfortunately, we are unable to accept orders in excess of the quantity our store expects to receive. Once all available pre-order slots are filled, we will not be able to accept new orders for our products.
Free delivery from £50
Buy by 12 am - delivery in 4 business days
Pay in a simple, fast and more secure way
Carrier not just for everyday use
Free hands of the parent and closeness to the baby - these are the basic features we expect from a carrier. But MILO gives us much more than that. It provides an ergonomic, safe position both when carrying your baby on the chest and on the back. It also has an innovative panel that can be shortened to fit the carrier perfectly to the size of your baby.
Key benefits
Designed in Europe
The European New Product Development Department makes sure that products offered by Kinderkraft are as good as possible in terms of functionality and safety, and that they follow the latest design trends. The department is made up of competent people with many years of experience in the children's products industry, and many of them are parents.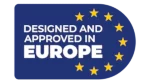 IHDI
The International Hip Dysplasia Institute (IHDI) acknowledges swaddling and baby wearing devices in order to recognize products that ensure healthy hip development. This is specifically important during the first six months of life when the hips are growing rapidly. Swaddling and baby wearing products that may influence hip positioning or hip motor development are qualified for review.
Key features
Innovative shortened panel
Thanks to the adjustment of the MILO panel, it will fit perfectly to your growing child, providing an ergonomic, enfolding position at every stage of its development.
Safe position of the toddler during every tri
Milo provides ergonomic M-shaped positioning of the legs, which is confirmed by the certificate of the International Hip Dysplasia Institute.
Support for your baby's delicate head
Thanks to the specially profiled material the head of your toddler always has a good support. The baby is safe while sleeping and when he or she gets to know the world around him or her.
Other features
Pleasure of every walk
Soft shoulder straps guarantee comfort even during longer hikes.
Down to the smallest detail
The elastic system allows you to hide the straps so that they do not interfere with everyday activities.
Compact size
Once folded, MILO is compact enough to fit easily into a bag, backpack or a drawer. Its storage and transport are very easy.
Product features - Video
The presented video is not a commercial offer, it is only made for preview purposes. It applies to a group of products with a similar or the same assembly, slight differences may appear (e.g. no accessories).
Specifications
Dimensions:
Materials:
20% cotton

Cotton provides tensile strength
Materials
20% cotton

Cotton provides tensile strength
Additional data
| | |
| --- | --- |
| Weight | 0.39 kg |
| Lap belt width | 10 cm |
| Harness width | 7 cm |
| Carrier dimensions | 38 x 36 cm |
| Standards | Meets European safety standards in accordance with CEN TR 16512:2015 |
| Manufacturer's guarantee: | 24 months |
| For children | from 3 months up to 20 kg |
Instructions
Video instruction
Text instruction
The presented video is not a commercial offer, it is only made for preview purposes. It applies to a group of products with a similar or the same assembly, slight differences may appear (e.g. no accessories).
Download
Did you buy this product?
Share your opinion
MILO
MILO is an ergonomic carrier for children from three months up to approximately four years (20 kg). Free hands for the parent and closeness to the child – these are MILO's main features. It enables two carrying positions – on the parent's stomach and back – enables your little one to adopt an ergonomic position (frog position) and supports your youngster's proper development. Thanks to the solutions used in the carrier, MILO supports correct hip development and decreases the risk of dysplasia. In addition, it features an innovative panel that you can easily shorten. This means you can tailor the carrier to your child's size. You can also easily adjust the wide shoulders and waist belt of the carrier to tailor MILO to yourself.
MILO ergonomic carrier
Comfort is the most important! The MILO carrier lets you spend time with your little one while carrying them comfortably on your back or stomach. It allows you to take your youngster wherever you like, while at the same time leaving your hands free. Shopping, responding to messages and opening doors will no longer be a problem. All of these activities can be done without having to sacrifice closeness with your darling. After all, spending time together and building bonds right from birth is what's most important!
Safety. The MILO carrier is a solution designed with your child's safety in mind. Your little one will always be in an ergonomic position – legs in the shape of the letter "M", and a rounded back. The breathable material provides good head support. It prevents your baby's head from dropping when they're very young and unable to hold it up. The carrier also ensures comfort during sleep and on walks with the parent. MILO has been awarded the certificate of the International Hip Dysplasia Institute, confirming that your child will be in the correct position ensuring comfort and correct hip development. The carrier also meets European safety standards as per CEN TR 16512:2015.
Comfort at every step. Parents will also love the comfort and convenience of MILO. After all, it's been designed with them in mind as well. It's precisely tailored to the parent's body thanks to the six adjustment options. In addition, it also doesn't cause excessive pressure, because the buckles are enveloped in soft pads. The shoulder straps themselves are soft and wide – they distribute your little one's weight, which encourages you to take your pride and joy on longer walks. If for some reason you want to put the straps away, you can do this thanks to the system of elastics. Another great feature of MILO is the wide strap with a pocket. You can use the pocket to store small everyday items.
For younger and older children. The carrier is suitable for littlies from three months. The only limitation is your youngster's weight – MILO is designed for toddlers up to 20 kg. It enables you to carry your child in two positions – on your stomach and on your back.
Convenient use. The material that the carrier is made of is a blend of cotton and polyester. The cotton prevents it from stretching, while the polyester is easy to clean, quick drying, durable and resistant to creasing. It weighs less than 0.39 kg. It's also easy to fold, so you can easily put it in your handbag or backpack.
Ergonomic baby carrier. Which one to choose?