Accessories
Bag MOMMY BAG
The lowest price of the last 30 days before the discount:
Product available only by pre-order
At this time you have the opportunity to pre-order this product through our official website.
Pre-orders Closed
Unfortunately, we are unable to accept orders in excess of the quantity our store expects to receive. Once all available pre-order slots are filled, we will not be able to accept new orders for our products.
Free delivery from £50
Buy by 12 am - delivery in 4 business days
Pay in a simple, fast and more secure way
MOMMY BAG – spacious shopper bag
As a mother, you want to have all the necessary accessories at hand when you leave home. A large bag, which can hold almost anything, such as the MOMMY BAG, will prove indispensable.
Key benefits
Designed in Europe
The European New Product Development Department makes sure that products offered by Kinderkraft are as good as possible in terms of functionality and safety, and that they follow the latest design trends. The department is made up of competent people with many years of experience in the children's products industry, and many of them are parents.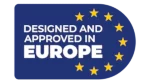 Key features
UNIVERSAL
You can take the MOMMY BAG everywhere. It will be useful during daily walks with your baby, when you go shopping or even during a weekend trip. What's more, it will be a perfect addition during a meeting with friends.
ORGANISED
You're always on the move, so to make it even easier for you to organise everything, you'll find a pocket and compartments in the MOMMY BAG to keep bottles, nappies, wipes and teething toys in place.
DURABLE
The MOMMY BAG will always prove useful and will be by your side for many years. It is made of durable and wear-resistant material, free of harmful substances.
Specifications
Dimensions:
Materials:
Imitation leather

durable and easy to clean
Materials
Imitation leather

durable and easy to clean
Additional data
| | |
| --- | --- |
| Weight | 0,7 kg |
| Dimensions | 53x29x17 cm |
| Standards | Product tested and approved in accordance with European safety standards. Product tested in an independent INTERTEK laboratory. |
| The set includes | two universal pram holders, a portable baby changing mat |
Did you buy this product?
Share your opinion
MOMMY BAG
Being a mum, you want to have all necessary accessories that you'll need when you leave the home on hand. Nappies, wipes, bottles, water and tissues are just the beginning. Sometimes the pushchair basket isn't enough, especially if your little one wants to take their toys. A large bag, such as the MOMMY BAG, becomes essential, as it'll fit almost everything you need. It has practical compartments, and thanks to the sturdy handles and special fasteners, you can attach it to the pushchair or carry it on your shoulder. It's made of durable materials, meaning it'll accompany you for years. The bag comes with a portable changing mat in a style that matches the design of the bag.
MOMMY BAG
The MOMMY BAG is an ideal choice for all active mums! You can use it for all the necessities you and your little one may need in different situations. The roomy bag is suitable for everyday walks as well as catching up with friends, and even weekend trips away. The interesting, modern design means you'll look stylish while being able to easily take whatever you may need. The bag also comes with clever gadgets. The versatile fasteners made of elastic, durable material allow you to attach it to the pushchair, while the changing mat may prove to be a lifesaver in many situations. It'll allow you to change your baby's nappy safely in hygienic conditions, and you can easily clean it after you're done. We've also made sure that both you and your little one are safe. The MOMMY BAG has been safety tested by the independent INTERTEK laboratory and meets all European standards..
Makes organisation easy. To help you organise all necessary accessories well, the bag comes with a larger pocket and several smaller compartments. Thanks to these, you can conveniently take all types of bottles, containers, nappies and even clothes with you. You just place them in a pocket that fits them, and you can be sure that they'll remain where they are!
Easy to clean. When your youngster is discovering the world, let them! Even if this means they'll get dirty. Luckily, with MOMMY BAG this is no problem. The material it's made of is extremely easy to clean. You just wipe it down with a damp cloth and it'll look as good as new!
Durable. The bag is made to last you for a long time. That's why it's made of material that's resistant to abrasion. The combination of eco-leather and polyester doesn't cause allergies and is very durable, irrespective of the external conditions. The materials are free of harmful substances so that you can enjoy time spent with your baby without worrying about their safety.
Which pram to buy?