Travel Systems
Travel system 3in1 XMOOV
Main advantages
Seat 2-in-1: carrycot and stroller
MINK seat included in the set
Large, inflatable and shock-absorbing wheels
Ventilated hood
Large adjustment range: seat, hood, belts, and handlebar for the parent
New, improved version of the cult MOOV model
New, improved version of the cult MOOV model
Multifunctional stroller for children from day 1, up to 22 kg: a carrycot, a stroller, and a car seat in one. It will be an ideal tool both in travel and in urban conditions (e.g. when shopping). The product meets the latest safety standards. It has an excellent four-wheel shock absorbing mechanism, 8 positions for the parent's handlebar, and two seat positions (facing forward or backward) for super comfort when strolling.
Certificates
Designed in Europe
The European New Product Development Department makes sure that products offered by Kinderkraft are as good as possible in terms of functionality and safety, and that they follow the latest design trends. The department is made up of competent people with many years of experience in the children's products industry, and many of them are parents.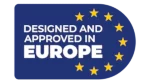 Made for Mums 2021
MadeForMums in an online community for parents and mums-to-be that helps make the best, confident choices for children. It delivers both professional and parent's product reviews to ensure children's well-being in the most precious time of their lives.
Key features
Seat 2-in-1: a carrycot and a stroller
It only takes three moves to turn the carrycot into a stroller - so you can easily and quickly change the function of the stroller, while walking or over time. This way, XMOOV will accompany your Baby for many years, and you won't have to worry about the space to store an extra seat.
4 inflatable wheels with shock absorption
The large inflatable wheels (20 and 30 cm) with shock absorption are durable, abrasion-resistant, and guarantee excellent grip to the ground, thus providing a high level of travel comfort, even on the most difficult terrain.
Adjustable parent's handlebar
The parent's handlebar can be set in up to eight positions, which guarantees comfort for people of different sizes. The handlebar has a pleasant eco-leather cover.
Two directions of travel
The stroller has two options of configuring its position: facing forward or backward. This way, the Toddler can stay in visual contact with their parent or enjoy the view during the stroll.
3 positions of the seat
The seat features a 3-stage, easy-to-use, handlebar-adjustable seat. With a single movement, you can change the position of the seat to lying, half-sitting, and seated. Simple as that!
Travel System
The set comes with the adapters you can use to mount the MINK seat in the frame or any other compatible car seat. This will be a particularly useful feature, when travelling and wherever space and time savings are an issue: on shopping or during a quick trip to the city.
Other features
Simple folding action
The 2-in-1 seat is easy to dismantle and the frame can be folded and transported comfortably. It will certainly not unfold by itself in transport, as it is protected by a safety mechanism!
Ventilated canopy
The hood features a special mesh, which guarantees additional ventilation and a view of the toddler. And when it's cold, you can cover it with some material.
Enlarged hood
The hood is deep and can be enlarged in one movement, thus guaranteeing maximum protection against adverse weather conditions. It also features a retractable canopy to protect against the sun.
A carry bag with accessories included:
The set comes with a capacious, fashionable MOMMY BAG, which will hold everything you will need for a walk, together with universal handles to suspend it from the parent's handlebar and a tourist changing table. The modern design and the shopper bag style make the bag look great when worn on the shoulder
5-point safety harness
The 5-point adjustable harness ensures that your child is safe and comfortable, thanks to the soft pads and crotch pads. The soft pads can be easily removed for cleaning, and the belts can be adjusted in height, as the child grows.
Practical accessories
The set contains everything you need to keep your child comfortable, when strolling in different weather conditions: a mosquito net, a rain shield, and a footmuff. And thanks to the cup holder, you can always have coffee or tea ready at hand!
Detachable safety bow
The bow can be rotated 360 degrees to allow the toddler to be placed freely in the stroller. You can detach the bow from one or both sides, as required, for maximum comfort. The eco-leather cover can be removed for cleaning - no need to worry about stains!
A capacious, detachable basket
The basket has a capacity of up to 4 kg, so it will hold everything! Additionally, it provides convenient access to the content from any side you want. It can be removed for cleaning and easily fastened back again (e.g. when you want to shake out the sand after coming back from the beach).
Hood window
The window in the hood allows eye contact with the child, which gives them a sense of security and makes it easier to take care of the Toddler during every stroll.
Straight-ahead interlock
The inflatable front wheels are extremely manoeuvrable and capable of a full 360-degree rotation. If the surface is uneven, they can be locked for straightforward driving to ensure comfort. Thanks to the shock absorbers installed over each of the wheels, the ride is smooth and comfortable.
Stop & Ride brake
This model of brake is definitely shoe-friendly! Press on the lever from above to activate or release it. There is no risk of damaging or soiling the shoe. The brake is located in the middle of the rear axle, which eliminates the risk of hitting against it, while pushing.
Product video
Specifications
Dimensions:
Materials:
Steel

The steel frame is strong and resistant to damage.

Rubber

The inflatable rubber wheels are ideal for a tougher terrain: they absorb shocks, have a more efficient tread, and provide enhanced grip.
Materials
Steel

The steel frame is strong and resistant to damage.

Rubber

The inflatable rubber wheels are ideal for a tougher terrain: they absorb shocks, have a more efficient tread, and provide enhanced grip.
Additional data
| | |
| --- | --- |
| Weight of the frame: | 8,5 kg |
| Weight of the carrycot: | 5,5 kg |
| weight of the car seat: | 3,3 kg |
| Diameter of the front wheel: | 20 cm; of the rear wheel: 30 cm |
| Width of the rear axle: | 60 cm |
| Carrycot's dimensions: | length 90 cm, width 40 cm, depth 22 cm |
| Stroller's dimensions: | backrest length 44 cm, backrest width 32 cm, seat width 32 cm, seat depth 22 cm, footrest height 20 cm, footrest width 30 cm, footrest for an older child: width 6 cm, length 28 cm |
| Folded frame: | height 42 cm, width: 65 cm (62 cm without the cup holder), length 75 cm |
| Unfolded frame: | height 92-116 cm (range of adjustment of the parent's handlebar), width 60 cm (with the wheels), length: 110 cm (with the carrycot in place) |
| Mink seat: | Height: 37-54 cm, Width: 45 cm, Length: 64 cm |
| Bag: | width: 53 cm, height 29 cm (+ handlebar 16 cm) |
| Changing table: | folded: 20 x 37 cm, unfolded: 37 x 56 cm |
| Standards: | ECE 44/04 for the MINK seat |
| The set includes: | MOMMY BAG, a tourist changing table, bag hooks, a cup holder, a mosquito net, a rain shield, a footmuff, seat adapters |
| Cardboard / packing dimensions: | 52 x 46 x 75 cm / 19,1 kg |
Instructions
Video instruction
Text instruction
Download
Did you buy this product?
Share your opinion
Product reviews (6)
User reviews (6)
My baby girl loves this pram very much and so do I :) She sleeps so well in it.

Best pram I've owned so far and I'm on baby number four so I've tested a few already ;)

Very nice, I'm super happy with the purchase. Our little one enjoys it very much

Absolutely love it! Reasonable price, very functional, modern and cute.

If you're looking for a pushchair that's great for shopping, light weight and comfortable, this one is perfect. I would recommend it to anyone.
All reviews
XMOOV 3-in-1
This is XMOOV – a multi-functional 3-in-1 pushchair designed for children from birth up to approximately four years (22 kg). It has a large, convertible seat that you can transform from a carrycot into a stroller in just a few amoves, and the MINK car seat with universal adapters. This means it fulfils three functions, and is ideal for both travelling and city conditions. It features large, air-filled wheels suitable for all terrains, as well as a parent handle that can be adjusted to eight positions. The excellent shock absorption on all four wheels and the option of clipping the stroller seat in facing towards and away from the direction of travel mean that your child will travel in comfort at all stages of their development. The XMOOV pushchair comes with the following practical accessories to make your walks more pleasant: MOMMY BAG, mosquito net, rain cover, cup holder and leg warmer.
XMOOV 3-in-1
XMOOV 3-in-1 is a multi-functional pushchair. It acts as a pram body and a stroller, and the set also includes the MINK car seat, which together with the universal adapters creates the practical TRAVEL SYSTEM. The pushchair is suitable for children from birth up to approximately four years (22 kg). This model is ideal for both everyday walks around the city and travelling, because it's easy to fold. The many features and accessories mean your child will always travel in comfort. You'll definitely love the practical advantages of this pushchair.
2-in-1 seat
In just three moves you can transform the pram frame into a stroller – this is a convenient solution, because it means you don't have to buy two separate pushchairs. You also don't have to store large boxes, because the pram body and stroller are one element. Thanks to this, XMOOV will grow with your baby, and you'll save space in your home.
Riding facing forwards or backwards. The seat of the stroller can be affixed facing either towards or away from the direction of travel. Depending on your needs, your little one can either be under your watchful eye, or observe the world around them.
Three backrest positions. The seat has three adjustment options. You can use the convenient handle to set the backrest in either the sitting, reclining or lie-flat position.
Wheels
All four XMOOV wheels are made of rubber and air filled. They provide abrasion resistance, shock absorption and better grip. The shock absorption guarantees comfort, even on difficult terrain.
Lock for driving straight. The wheels swivel 360 degrees, meaning you'll have no problem slaloming between obstacles. And if you want to take it on an uneven surface (e.g. gravel, paving), you can use the wheel lock function to ride straight. You can be sure that the pushchair won't veer off unexpectedly.
STOP & RIDE brake. When you want to stop the pushchair and be sure that it won't roll away, e.g. when you're putting your child in the seat, all you need to do is press the STOP & RIDE brake. Press it from the top to lock or release. Thanks to this, you can do it even in your sandals. This brake won't damage or dirty your shoes.
Hood
The XMOOV hood is very deep and you can extend it further – it provides protection against unfavourable weather conditions. In addition, the hood features a sun shade to protect your youngster against strong sun.
Ventilation panel. Under a material flap in the hood, there's a panel made of special mesh – you can open it, for example, on hot days to ensure adequate air flow for your littlie.
Window in the hood. When you want to keep an eye on your youngster, you can always peek in on them through the special window in the hood. It allows you to check if your little one is still asleep without stopping and risking waking them up.
Travel System
The set also includes the MINK car seat and universal adapters, thanks to which you can affix it to the pushchair frame. It's also very handy on trips and in any situation where time and space are important. For example, to go shopping you don't have to take a pushchair and car seat separately – you can have everything in one product.
Folding
You can easily remove the seat and fold the frame for convenient transport. The locking mechanism protects the pushchair from unfolding during your trip.
Safety
The XMOOV stroller seat has a five-point safety harness that can be adjusted when your little one gets older. The safety harness features soft pads and a crotch cover. The pads can be easily removed for cleaning.
Smart solutions
Basket. The XMOOV basket will fit everything you need – shopping, blanket, toys, food, etc. You can access the basket from any side, and you can also easily remove it for cleaning. It holds up to 4 kg.
Adjustable parent handle. The parent handle is extremely convenient – you can adjust it to eight positions. This is very handy as it can be adapted to people of any height. The handle also has a cover made of eco-leather that's pleasant to the touch.
Detachable guard rail. TThe guard rail can be swivelled 360 degrees and removed from one or both sides – this makes it easier to put your child inside the pushchair. The eco-leather cover is pleasant to the touch for little hands. It can also be easily removed for cleaning.
Accessories
XMOOV comes with many handy accessories: a rain cover, leg warmer and mosquito net. It also has a cup holder, so you can always have your favourite beverage with you. The set includes a very roomy and practical bag. It'll fit whatever you need to take on the walk, and even more! You can use the special handles to hang it on the handle of the pushchair. The bag also includes a portable changing mat that features a pattern matching the bag.
Which pram to buy?