Buggies
Stroller VESTO
The lowest price of the last 30 days before the discount:
Product available only by pre-order
At this time you have the opportunity to pre-order this product through our official website.
Pre-orders Closed
Unfortunately, we are unable to accept orders in excess of the quantity our store expects to receive. Once all available pre-order slots are filled, we will not be able to accept new orders for our products.
Free delivery from £50
Buy by 12 am - delivery in 4 business days
Pay in a simple, fast and more secure way
Main advantages
The seat can be installed facing towards or away from the direction of travel
The maintenance-free, lightweight wheels feature shock absorbers
The backrest can be reclined to the lie-flat position
Ideal for city trips and adventures in the country
Ideal for city trips and adventures in the country
VESTO is designed with the comfort of both the child and parent in mind. Thanks to the puncture-resistant, easy-to-manoeuvre wheels, it's a breeze to steer, and on more difficult terrain, the drive-straight lock will ensure your little one remains comfortable. Children will enjoy the option of the seat being mounted in two directions as well as the large waterproof hood made of UPF50+ material, and the parents will love the set of complete accessories for all types of weather.
Key benefits
Designed in Europe
The European New Product Development Department makes sure that products offered by Kinderkraft are as good as possible in terms of functionality and safety, and that they follow the latest design trends. The department is made up of competent people with many years of experience in the children's products industry, and many of them are parents.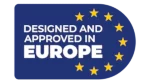 Key features
All four tyres have shock absorbers
The VESTO stroller has four wheels with shock absorbers. They make every walk comfortable and safe, even those on gravel paths.
Puncture-resistant tyre
The wheels are made of durable foam – it makes them puncture resistant and resistant to abrasion. They're perfect for riding on asphalt and the pavement.
Backrest reclines to the lie-flat position
The VESTO stroller has a backrest that can be adjusted to three different positions. It can be reclined to the lie-flat position – does your youngster want to see the world? Or do they prefer a nap? VESTO can be easily adapted to your child's needs!
Other features
Safe when folded
VESTO has the AUTO LOCK system, which prevents the stroller from spontaneously unfolding while carrying or during transport.
Guard rail detaches on both sides
The guard rail can be removed from both sides. It's now easy to put your child in: all you need to do is tilt it to one side, and then comfortably place your little one inside.
STOP & RIDE brake
The STOP & RIDE linked brake is operated from the top. It's not only very smooth, but also won't damage your shoes.
Easy-to-manoeuvre front wheels
The front swivel wheels ensure ease of steering and make it easy for you to avoid obstacles. They swivel 360 degrees and can be locked to drive straight.
Five-point safety harness
The stroller comes with a five-point safety harness that makes your little one safe. The safety harness is adjustable and features soft pads and a crotch cover.
Window for contact with the child
The hood window allows you and your child to see each other. Would you like to see inside the stroller to see what your youngster is doing? Just lift the material and take a peek!
Spacious basket
The roomy basket has a 5 kg capacity, so it's ideal for all your and your child's necessities.
Ventilation mesh
There's a ventilation mesh panel hidden under an additional zipper in the hood. On hot days, it'll ensure constant air flow inside the stroller.
Can be tailored to the parent's height
The VESTO stroller has a convenient parent handle that can be adjusted to five different heights. You can easily adapt the pushchair to your height, making walks easier.
Handy accessories
VESTO is equipped with many practical accessories: cup holder and rain cover.
Specifications
Dimensions:
Materials:
Easy-to-clean fabric

The cover is easy to clean, and the hood material is waterproof with UPF50+ protection.

EVA foam

Puncture-resistant wheels made of EVA foam.
Materials
Easy-to-clean fabric

The cover is easy to clean, and the hood material is waterproof with UPF50+ protection.

EVA foam

Puncture-resistant wheels made of EVA foam.
Additional data
| | |
| --- | --- |
| Weight: | 11,45 kg |
| Folded stroller: | 81x62x28 cm |
| Unfolded stroller: | 78x62x106 cm |
| Folded frame without seat: | 81x62x24,5 cm |
| Seat: | 35x22 cm |
| Backrest: | 52x34 cm |
| Footrest: | 29x20 cm |
| Reclined seat length: | 94 cm |
| Parent handle height: | 90 - 111 cm |
| Basket: | 49x40x20 cm |
Did you buy this product?
Share your opinion