Travel Systems
Travel system 3in1 MOOV
Compact stroller for years
This product which will be a companion of your family from the very first days of the baby, and will cope with any challenge. It is very compact, as the bassinet is converted into the stroller.
Certificates
Designed in Europe
The European New Product Development Department makes sure that products offered by Kinderkraft are as good as possible in terms of functionality and safety, and that they follow the latest design trends. The department is made up of competent people with many years of experience in the children's products industry, and many of them are parents.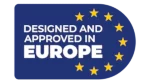 Key features
Central brake
The central brake is easy to use - it can be engaged or disengaged with just one move.
Sunshade
The unique extendable hood provides the child with a peaceful, secure environment and protects against external factors.
Comfortable adjusted seat
You can adjust the stroller seat quickly and conveniently in the lying, reclining or seated positions - with one hand.
Large shopping basket
Shopping during a walk is no problem now - this really roomy basket can accommodate a lot.
Maneuverability and cushioning
Large pneumatic wheels provide perfect cushioning, and in addition the stroller is very manoeuvrable thanks to the possibility of turning the front wheels up to 360 degrees with a lock.
Adjustable handle height
Wygodna rączka z ekoskóry zapewnia komfort dłoniom i jest łatwa w regulacji.
Other features
5-point harness
Soft and durable, adjustable 5-point harness with pads guarantees safe journey to your child.
Tilting safety bar
The tilting bar covered with artificial leather ensures your child's safety and does not need to be disassembled to remove the child.
Transparent visor in the sun shade
A convenient visor in the sun shade allows parents to see at any time what is happening with the toddler.
Product video
Specifications
Dimensions:
Materials:
Artificial leather

Handle for the parent and child finished with artificial leather, which is nice in touch

Steel

Steel frame provides lightweight, but solid structure.
Materials
Artificial leather

Handle for the parent and child finished with artificial leather, which is nice in touch

Steel

Steel frame provides lightweight, but solid structure.
Additional data
Weight:
Pram with car seat: 11.8 kg

Pram with carrycot/Stroller: 14 kg

Frame: 8.5 kg; Carrycot: 5.5 kg; Car seat: 3.3 kg

Weight of the whole set: 17.5 kg

Box dimensions:
75 x 52 x 42 cm / 20,9 kg
Dimensions of the bassinet:
83 x 40 x 24 (L x W x H).
Stroller dimensions:
61 x 91 x 105 cm
Wheel dimensions:
20 cm, 30 cm (front, back)
Handle height:
105 cm
Included:
rain cover, footmuff, parent bag
Instructions
Video instruction
Text instruction
Download
Did you buy this product?
Share your opinion
Product reviews (6)
User reviews (6)
This stroller is everything and more that I wanted it to be. My baby seems to like it too.

Nice stroller, useful and practical

Love it! It has so many features where they have thought of both baby and parent. Just great

Well constructed and versatile. The comfort and quality is top notch.

Everythig was very easy to put together. Love how versatile it is, amazing quality. 10/10 definitely recommend!

A very nice stroller. Love the adjustable handle, makes it so much more comfortable to use. I would recommend it to anyone.
All reviews
MOOV 3-in-1
Learn all about MOOV 3-in-1 – an extremely functional pushchair you'll love! The set includes not only a frame with wheels and a 2-in-1 seat, as well as universal adapters and a car seat that together create the practical TRAVEL SYSTEM. The large, comfortable seat is easy to transform from a pram body into a stroller – when your child grows out of the pram body, all you need is a few moves to convert it into a seat. MOOV features three-step backrest adjustment, so you can set it in the sitting, reclining or lie-flat position. In addition, it's equipped with large, air-filled wheels with shock absorbers. Thanks to this, it's suitable for almost any type of terrain, so rides even on bumpy surfaces will be very comfortable for your baby. And you'll love how easy it is to steer this pushchair. MOOV features an adjustable parent handle and extendable hood with a viewing window through which you can see your baby.
MOOV multi-functional 3-in-1 pushchair
This is a pushchair for years – it combines the function of a pram body and stroller, and doesn't have to take up much room. The compact MOOV 3-in-1 is a solution thanks to which parents can limit the number of accessories their child needs to the necessary minimum. All of this is thanks to the fact that the pram body, which is used by newborns and young babies, converts directly into a stroller seat. One structure, one frame – many advantages for the parent and the baby, who's growing quickly and constantly needs new solutions. By choosing MOOV 3-in-1 with a car seat equipped with universal adapters, you make one decision that'll last you for many years. This guarantees peace of mind in the form of a lightweight, versatile pushchair that'll meet every challenge.
Comfortable and safe. Your baby will be comfortable and safe in the large and deep pram body with an extendable hood. This is particularly important for parents of newborns and young babies who are looking for models with a stable design equipped with features for young children. When your little one is growing, MOOV 3-in-1 in the stroller version ensures their comfort and safety thanks to the five-point safety harness with soft pads. An additional safety feature (and advantage for the parent) is the tilting guard rail, which doesn't need to be removed to put your child in or take them out. The MOOV 3-in-1 set also includes handy accessories, such as a rain cover, leg warmer and parent bag.
Easy-to-manoeuvre pushchair with shock absorbers. Irrespective of whether you're going on your first walk with your baby using the pram body or using the stroller for an older child, you can count on MOOV 3-in-1 to be easy to manoeuvre and steer. This is thanks to the large air-filled wheels with shock absorbers, which on difficult terrain can be locked to drive straight to make it easier for you to navigate the bumps. Avoiding obstacles in MOOV 3-in-1 also won't be a problem – the front wheels swivel 360 degrees, respond quickly to the parent's moves and allow you to reach your destination. Walks are more comfortable thanks to the adjustable handle, which can be tailored to your height.
Compact. Thanks to the seat, which can be easily converted from a pram body into a stroller, you get one pushchair that'll last you for years and save space in your home. The smaller size and lightweight design of the MOOV 3-in-1 pushchair also mean great convenience for mobile families. You just remove the seat, release the frame locks, fold the frame in one move and pack it into your boot. Storage and travel are much easier when you have an assistant in the form of the multi-functional and compact MOOV 3-in-1 pushchair that's ready to face any challenge.
Which pram to buy?