Pushchairs
Stroller GRANDE LX
The lowest price of the last 30 days before the discount:
Product available only by pre-order
At this time you have the opportunity to pre-order this product through our official website.
Pre-orders Closed
Unfortunately, we are unable to accept orders in excess of the quantity our store expects to receive. Once all available pre-order slots are filled, we will not be able to accept new orders for our products.
Stroller with 4-wheel suspension
The newer version of the iconic GRANDE is a proposition refined in every detail, stylish and safe.
Large, rubber and puncture-proof rear wheels provide even more comfort, and thanks to the suspension it is ideal for even the toughest terrain.
Key benefits
Designed in Europe
The European New Product Development Department makes sure that products offered by Kinderkraft are as good as possible in terms of functionality and safety, and that they follow the latest design trends. The department is made up of competent people with many years of experience in the children's products industry, and many of them are parents.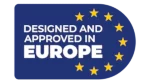 Key features
Premium rubber rear wheel
The large rubber wheels are abrasion-resistant, puncture-proof and provide good grip on difficult terrain. At the same time, they are lighter than pneumatic wheels.
Improved 4-Wheel suspensio
Reduces shocks, provides greater stroller stability and comfort. Large rubber rear wheels can handle high curbs and uneven surfaces.
Deep foldable hood
Protects the child from the sun and wind. It has an aesthetic zipper that allows you to hide excess material in a folded hood.
Other features
Central stop go brake
The correctly shaped brake pedal can be easily locked and unlocked, regardless of the type of footwear. With the brake in the middle of the axle, you don't have to worry about accidentally hitting it while driving.
Practical accessorie
The cup holder will allow you to take your coffee with you. Rain cover and footmuffler will keep your baby comfortable in the rain and cold.
Lock against folding
The mechanism in the handle prevents the stroller from folding in an unexpected situation (e.g. when playing or driving on uneven terrain).
5-point safety belt
The seat belts are adaptable even for newborns. When the little one grows up, you can readjust them. Once they get dirty, you can wash your seatbelts and pads in the washing machine.
Infinitely adjustable backrest
The backrest can be lowered smoothly to the lying position without waking up the toddler. You decide on the angle of its inclination so that the child is comfortable.
Adjustable footrest
4-position footrest adjustment ensures comfort for the child in a sitting and lying position.
Spacious seat
The wide, deep and properly profiled seat will give your child space to sleep, play and observe the world during each walk.
A window in the hood
A lockable window allows for constant visual contact with the child and provides additional ventilation.
Spacious cargo basket
A large and spacious cargo basket with a load capacity of up to 2 kg will allow you to conveniently transport the necessary accessories, shopping or handbag.
Handle covered with eco-leather
The eco-leather cover is elegant, practical and comfortable. It is easy to clean and comfortable to use.
Accessory pocket
Thanks to this you can always have the essentials, such as phone or handkerchiefs, at your fingertips.
Lightweight front wheel
The front wheels made from EVA foam, with an increased density to make them more durable, are extremely lightweight and puncture-proof.
Product features - Video
The presented video is not a commercial offer, it is only made for preview purposes. It applies to a group of products with a similar or the same assembly, slight differences may appear (e.g. no accessories).
Specifications
Dimensions:
Materials:
Steel

Provides a stable and durable construction
Materials
Steel

Provides a stable and durable construction
Additional data
| | |
| --- | --- |
| Brand | Kinderkraft |
| Model | GRANDE 2020 |
| Weight | 9,9 kg |
| Dimensions | |
| Unfolded | length – 95 cm, height – 100 cm, width - 57 cm |
| Folded | length – 83 cm, width – 57 cm, height – 27cm |
| Gap between wheels | rear – 57 cm, front – 33 cm |
| Diameter of wheels | front – 17 cm, rear – 25 cm |
| Max. child weight | 15 kg |
| Max. cargo basket capacity | 2 kg |
| Seat | width - 34 cm, depth - 21 cm |
| Backrest | height - 47 cm, width - 34 cm |
| Standars | EN 1888 |
| The set includes | Cup holder, rain cover and footmuffler |
| Warranty | 24 months |
Instructions
Video instruction
Text instruction
The presented video is not a commercial offer, it is only made for preview purposes. It applies to a group of products with a similar or the same assembly, slight differences may appear (e.g. no accessories).
Download
Did you buy this product?
Share your opinion
GRANDE LX
GRANDE LX is a stroller for all conditions. It's an extremely functional pushchair designed for the most demanding parents. The large, puncture-resistant rubber wheels – both front and rear – are perfect on park pavements, cobblestones and plant litter. And the large, waterproof hood is made of UPF50+ material that effectively stops excessive sun rays, protecting your little one against all types of weather. The stroller is easy to fold, and the lock means you don't have to worry that the pushchair will spontaneously unfold during carrying. The adjustable backrest, footrest and five-point safety harness with soft pads will make sure your youngster is safe on both short and long walks..
GRANDE LX stroller
A comfortable stroller with a wide seat and deep hood is a must-have for walks with your baby. GRANDE LX is all of these things – it has a large and comfortable seat, which ensures your child has lots of space. The convenient adjustable footrest and backrest that folds out flat provide additional comfort. Parents love GRANDE LX for its light weight and ease of manoeuvring. You can easily navigate between trees at the park or the streets of the old town. Thanks to the improved shock absorption, your little one won't feel any transitions between different terrains.
Safety. Your youngster is protected by the five-point safety harness, which can be adjusted to their height and age. In addition, the guard rail, which can be removed from both sides, will prevent your littlie from sliding off of the seat. GRANDE LX is also equipped with a lock that protects the stroller from accidentally folding on walks. The STOP & RIDE linked brake allows you to quickly lock the pushchair, irrespective of the type of shoes you're wearing.
Functionality. The GRANDE LX stroller also has an extendable waterproof hood made of UPF 50+ material. It features a convenient mesh window, which closes using a magnet and enables you to keep your youngster in view. When it's particularly warm, the window can be used for additional air flow. The stroller backrest features smooth adjustment to the lie-flat position, while the footrest has four positions. Its highest position together with the backrest in the lie-flat position creates a comfortable place for a nap. The wheels of the pushchair are made of puncture-resistant foam coated with rubber with increased resistance to abrasion. They also feature shock absorbers, which reduce bumps to make walks more pleasant for your little one. The front wheels feature a lock to drive straight, which comes in handy on difficult terrain.
Convenience. GRANDE LX comes with a large basket. Thanks to its dimensions and solid workmanship, you can put both your child's toys and shopping inside. For your convenience, the pushchair is equipped with an additional pocket for small items at the back of the hood. It'll hold your phone and keys. You can easily reach into the pocket while you're steering the pushchair. The handle and guard rail are covered with easy-to-clean eco-leather. The AUTO LOCK system allows you to quickly and easily fold the pushchair. You can also unfold it in one dynamic move. The set includes a rain cover, leg warmer and cup holder.
Which pram to buy?