3in1 Travel Systems
Travel system 3in1 JULI
The lowest price of the last 30 days before the discount:
Product available only by pre-order
At this time you have the opportunity to pre-order this product through our official website.
Pre-orders Closed
Unfortunately, we are unable to accept orders in excess of the quantity our store expects to receive. Once all available pre-order slots are filled, we will not be able to accept new orders for our products.
FUNCTIONALITY FOR YEARS
A multi-functional stroller that grows with your child. The pram can be converted into a stroller in just a few moves, which saves space in your home. It's the perfect choice for parents looking for compactness and functionality.
Key benefits
Designed in Europe
The European New Product Development Department makes sure that products offered by Kinderkraft are as good as possible in terms of functionality and safety, and that they follow the latest design trends. The department is made up of competent people with many years of experience in the children's products industry, and many of them are parents.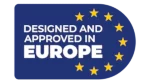 Key features
Safety and easy folding
The two buttons on the handle protect the stroller from accidental folding. To fold it − just press both at the same time and that's all.
3 seat positions
With the handle on the frame, the backrest can be set in three positions: lying down, sitting or reclining.
Smooth backrest adjustment
The buckle on the backrest ensures its smooth adjustment. With it you can gently change the backrest position, for example when the child falls asleep.
Other features
Capacious basket
With the large, capacious basket you can take all the necessary things or pack your shopping instead of carrying it in your hands.
Easy to clean footrest
The footrest, which is most vulnerable to soiling, is made of a special easy-to-clean material.
Universal adapters included
The universal adapters delivered with the stroller are compatible with many child safety seats of brands such as Maxi Cosi® and Cybex®.
Cup at your hand
With the cup holder coffee, tea or another favourite drink is within your reach, even during a walk.
Window in the canopy
The stroller canopy features a window through which you can always see what is happening with the child.
Foot cover
The supplied foot cover helps to protect the child in cold weather. It is attached to the bar in the pram or the canopy.
Product features - Video
The presented video is not a commercial offer, it is only made for preview purposes. It applies to a group of products with a similar or the same assembly, slight differences may appear (e.g. no accessories).
Specifications
Dimensions:
Materials:
Steel

The steel frame provides robust design

EVA foam

Safety bar made of EVA foam
Materials
Steel

The steel frame provides robust design

EVA foam

Safety bar made of EVA foam
Additional data
Weight:
Frame: 6.1 kg
Seat: 3.85 kg
Child safety seat: 3.3 kg
Dimensions:
Length: 77.5 cm
Width: 31 cm
Height: 57 cm
Included:
Cup holder, foot cover, rain cover, universal adapters for child safety seats
Mink seat:
Height: 37-54 cm
Width: 45 cm
Length: 64 cm


Manual
Instructions
Video instruction
Text instruction
The presented video is not a commercial offer, it is only made for preview purposes. It applies to a group of products with a similar or the same assembly, slight differences may appear (e.g. no accessories).
Download
Did you buy this product?
Share your opinion
JULI 3-in-1
JULI is a multi-functional 3-in-1 pushchair that features a convertible seat. In just a few moments, you'll transform it into a stroller. This solution allows you to change the functionality of the pushchair in just a few moves. In addition, it saves you a lot of space – when your little one grows out of the pram body, you don't have to store it in the wardrobe. JULI is the perfect choice for parents who value a compact size and functionality. The two buttons in the pushchair handle prevent JULI from accidentally folding. You press them simultaneously, and in just a few moves, you can fold the pushchair and put it into your car boot. You can easily take it with you on trips. JULI also features smooth, quiet backrest adjustment to three positions – this means your little one will be comfortable on walks. This is also possible thanks to the wheels, which are made of puncture-resistant foam and have increased resistance to abrasion.
JULI multi-functional 3-in-1 pushchair
Your child is growing quickly, and JULI 3-in-1 converts from a comfortable and safe pram body into an easy-to-manoeuvre stroller. It's a pushchair that makes it easier for you to organise the space inside your home, because it doesn't take up much room. The pram body converts directly into a stroller seat once your child is old enough to change to this type of pushchair. You just clip the buckles underneath the seat and attach the safety harness. This function means that you don't have to put the pram body in your wardrobe after six months of use – the practical JULI 3-in-1 will serve your youngster for many years. This is a pushchair designed with the needs of parents looking for very functional solutions in mind. And the lightweight design and MINK car seat with adapters in the set (the so-called TRAVEL SYSTEM) are great for mobile families. When your baby falls asleep on the way to the shops, you don't have to interrupt their nap – you just attach the MINK car seat to the pushchair frame.
Great for travelling. The multi-functional JULI 3-in-1 pushchair is equipped with the TRAVEL SYSTEM. In addition to the pram body and stroller, parents also get the MINK car seat with universal adapters in the set. These allow you to affix the car seat to the pushchair frame in one move, so you can go for a quick trip to the shop or on an unplanned walk without needing to move to the stroller seat. The puncture-resistant foam wheels of JULI 3-in-1 have a lock to drive straight, so they're ideal for difficult terrain, whether it be grass in a park, uneven pavement or a paved path outside the city.
Safe and comfortable. A lot happens on walks and trips, and so children often need a moment to rest or take a refreshing nap. JULI 3-in-1 meets these needs: your littlie can safely rest in the deep, comfortable pram body, while older children can have a nap in the stroller seat with adjustable backrest. Thanks to the smooth and quiet three-step adjustment system, you can change the position of the pushchair to one that's more comfortable for your sleeping youngster without interrupting their snooze. Your child will be safe thanks to the easy-opening guard rail and five-point safety harness with soft pads that prevent chafing, particularly on warmer days.
Functional. It's easier to look after your little one when you're able to use a functional and intuitive pushchair like JULI 3-in-1. Folding and unfolding are a breeze thanks to the two buttons on the pushchair frame. They're also a lock to prevent accidental folding. Are you having a longer stop on your walk? Quick access to the linked brake button makes operation easier, and the safe braking system guarantees that JULI 3-in-1 won't move when you don't want it to. You have many more features on hand, such as the spacious basket for accessories and shopping, cup holder or extras included in the set (rain cover and leg warmer), meaning your baby will be comfortable in all conditions.
Which pram to buy?