Travel Systems
Travel system 3in1 PRIME 2020
Main advantages
Multifunctional
Solid, but lightweight structure
Large pumped wheels high quality finish comfortable stroller seat included
Stylish, multi-purpose pushchair
Stylish, multi-purpose pushchair
PRIME combines 3 functions in 1 pushchair. From the first days of baby's life you can use MINK seat and deep, comfortable bassinet. For older children it can be converted into manoeuvrable and lightweight stroller. Made of high quality materials, good-looking and functional.
Certificates
Designed in Europe
The European New Product Development Department makes sure that products offered by Kinderkraft are as good as possible in terms of functionality and safety, and that they follow the latest design trends. The department is made up of competent people with many years of experience in the children's products industry, and many of them are parents.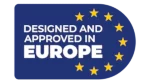 Key features
For city and off-road trips
Shock-absorbing features in all wheels, central brake, large inflatable wheels and lightweight, easily manoeuvrable structure make the pushchair suitable for 'special' tasks.
Cushioned stroller frame
Additional side cushioning in the frame increases comfort even in the most difficult terrain.
Deep sunshade
Deep hood perfectly protects the child against weather factors. It also has a slide-out, additional sun protector.
Mink seat
The set includes MINK car seat with insert for infants. It may be used from the first days of child's life as the car seat and baby carrier.
Reflective inserts for safety
Materials used in the stroller and the bassinet have reflective inserts that additionally enhance safety of each walk.
Lying position in the stroller
The stroller seat can be easily lowered to a horizontal position, creating ideal conditions for sleep.
Other features
Easy folding
Folding and unfolding of the pushchair is effortless and simple. Similarly, you can convert the bassinet into the stroller or mount a car seat.
Bag included
A practical, roomy bag is included. To be worn over the shoulder or hanged on the stroller handle.
Artificial leather handles for parent and child
Nice and pleasant to the touch artificial leather handles for the parent and for the little traveller.
Great ventilation
The back of the hood features a mesh that provides ventilation on hot days.
Magnet closing visor
The hood features a magnet closing visor − quiet and comfortable.
Cushioned front wheels
Cushioned front wheels are lockable.
Product video
Specifications
Dimensions:
Materials:
Material: melange – 100% polyester

High-quality materials, resistant to abrasion

Aluminium

Aluminium frame provides lightweight, but solid structure.
Materials
Material: melange – 100% polyester

High-quality materials, resistant to abrasion

Aluminium

Aluminium frame provides lightweight, but solid structure.
Additional data
| | |
| --- | --- |
| Weight: | bassinet and car seat − 8 kg stroller and frame: 12 kg |
| Dimensions: | Stroller and frame: 100 x 106 x 59 Bassinet: 88 x 41 x 66 Car seat: 65 x 45 x 45,5 |
| Wheel dimensions: | front − 20 cm, rear − 29 cm |
| Handle height: | 85-108 cm |
| Included: | rain cover, footmuff, parent bag, pump, adapters for the car seat |
Instructions
Video instruction
Text instruction
Download
Did you buy this product?
Share your opinion
Product reviews (7)
User reviews (7)
We are very happy with this prime. Super versatile, strong, light and comfortable for our baby. And it looks really nice! I recommend 100%.

Great for this price point. Storage space is decent enough for a diaper bag. It also looks stylish and trendy. We're very satisfied with this pram.

So versatile, we love it!

My wife told me I need to write the best review because we are so happy with this pram so here it is! :) Great product

Very light and easy to drive and I love the big storage space.

Very stylish, great quality, Very stylish, great quality, functional, the color is beautiful & exactly like the pictures. I recommend this 100%.

This pushchair is AMAZING. It is so convenient and portable. Easy to assemble, very nice looking. Great buy and very good quality!
All reviews
PRIME 2020 3-in-1
Learn all about the elegant, multitasking pushchair – PRIME 2020 3-in-1. It'll accompany your child from birth up to approximately four years (22 kg). This model consists of the MINK car seat with universal adapters, frame, deep carrycot and convenient stroller. You can use the carrycot to carry your baby – if they fall asleep and you have to go up stairs, you don't have to take them out of the pushchair. PRIME 2020 is made of high-quality materials, so it looks great and is very functional. It has four large, air-filled wheels with shock absorbers, and extra shock absorbers on the pushchair frame. The deep, extendable hood has an additional sun shade, and the reflective elements increase safety during walks after dark. PRIME 2020 is finished with eco-leather, which makes it look chic and unique. The pushchair comes with practical accessories, such as the MOMMY BAG, rain cover, leg warmer and pump.
PRIME 2020 3-in-1 pushchair
Can a pushchair be something other than just a pushchair? PRIME 2020 3-in-1 is a multi-functional and multitasking companion for your baby. Already from the first days of life, it can be used as a convenient carrycot that you can easily remove from the pushchair and carry your child in it, for example, if they've fallen asleep on a walk. Thanks to the adapters and MINK car seat, the practical TRAVEL SYSTEM finishes it off – this system is very handy on shopping trips. Slightly older littlies can use it as a lightweight and easy-to-manoeuvre stroller. The pushchair is made of high-quality materials ensuring a stylish look and durability for many years up to 22 kg.
Multitasking. The PRIME 2020 3-in-1 pushchair is a combination of a carrycot, car seat and stroller. It's an ideal solution for families who travel a lot and are always on the move. If you're going on a family trip, you just take the MINK car seat and then enjoy a walk together with your child in the comfortable and easy-to-manoeuvre stroller. The PRIME 2020 3-in-1 set includes adapters that allow you to attach car seats by popular brands to the frame. You also have a practical and roomy bag designed to fit everything you need on walks with your baby. You can easily hang it on the pushchair handle or carry it on your shoulder. The set also includes a practical foldable changing mat, as well as a rain cover to protect your littlie from the rain.
Quality. The PRIME 2020 3-in-1 pushchair is made of high-quality materials that are ideal for walks on both sunny days and in windy or rainy conditions. The back of the pushchair features breathable mesh for adequate air flow. Another element of PRIME 2020 3-in-1 that you'll love on warm days is the deep hood with an additional sun shade protecting your youngster against excessive sun. It's also ideal when you get unexpected rain on a walk. The pushchair is equipped with stylish reflective elements. They increase safety on evening walks and are particularly handy in autumn and winter, when it gets dark earlier.
Convenient. With the PRIME 2020 3-in-1 pushchair, folding and unfolding are problem free! It doesn't require any strength, and is extremely easy! The entire pushchair is very lightweight and durable, so you'll have no trouble carrying it up to your apartment after a walk. It's very easy to convert the carrycot into a stroller and clip the car seat in. Each walk will be a real joy thanks to the soft and comfortable seat, which can be reclined to the horizontal position and clipped in facing forwards or backwards.
Which pram to buy?