Prams
Pram 2in1 EVOLUTION COCOON
The lowest price of the last 30 days before the discount:
Product available only by pre-order
At this time you have the opportunity to pre-order this product through our official website.
Pre-orders Closed
Unfortunately, we are unable to accept orders in excess of the quantity our store expects to receive. Once all available pre-order slots are filled, we will not be able to accept new orders for our products.
Free delivery from £50
Buy by 12 am - delivery in 4 business days
Pay in a simple, fast and more secure way
Main advantages
Soft carrycot (cocoon) for children up to six months old
Puncture-resistant rubber tyres with shock absorbers
Large waterproof hood made of UPF 50+ fabric
Set includes adapters for attaching the car seat to the frame of the pushchair
A STROLLER WITH A COSY COCOON
A STROLLER WITH A COSY COCOON
EVOLUTION COCOON is an easy-to-use, compact and multifunctional pushchair designed for children from birth. The soft cocoon can be mounted on the seat and will provide comfort for the smallest babies. Easy operation – can be folded with one hand thanks to the CLICK FOLD mechanism, and the fact that the pushchair can be folded with the seat still attached makes it easier to use. Comfort is guaranteed thanks to wheels with shock absorbers – large rear wheel and swivel front wheel with the option of locking for straight driving.
Key benefits
Designed in Europe
The European New Product Development Department makes sure that products offered by Kinderkraft are as good as possible in terms of functionality and safety, and that they follow the latest design trends. The department is made up of competent people with many years of experience in the children's products industry, and many of them are parents.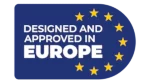 Key features
Soft carrycot (cocoon)
The possibility of attaching a soft cocoon ensures safety and comfort for children up to 6 months of age during each walk.
2 driving directions of the stroller
The seat can be mounted rearward facing when you want a better view of your baby, or forward facing so that your baby can easily admire the world!
Puncture-resistant tires with shock absorbers
Maintenance-free rubber wheels with a puncture-resistant tire filled with EVA foam are durable in all driving conditions.
Other features
Easy Folding
The CLICK FOLD mechanism located under the seat allows for easy folding of the stroller with one hand.
Telescopic adjustable handle
Setting the telescopic handle at 4 different heights makes it possible to adjust the stroller to your needs and ensures the comfort of use.
3 backrest positions
3 positions of the backrest - sitting, reclining, lying - enable easy adjustment of the stroller to the needs of the child. You can make the adjustment with one hand!
4 positions of the footrest
4 positions of the footrest adjustment will provide the baby with the greatest possible comfort.
Large shopping basket
The capacious shopping basket can be loaded up to 4 kg, so it will be perfect for a trip to the store!
5-point seat belts
Safety belts with 5 fastening points will keep your child safe, and thanks to the shoulder straps and crotch pad - also comfort.
Stop Ride brake
The central location of the brake ensures easy access and comfortable operation, even in summer shoes.
Parent-child contact window
If you want to keep an eye on your baby at all times, you can use the mesh in the booth to ensure eye contact with your baby.
Detachable headband
The safety bar gives your child a guarantee of safety. In addition, it can be easily detached from both sides.
Practical accessories
The stroller comes with practical accessories: a footmuff and rain cover in bad weather, and a mosquito net to protect the child from insects. In turn, the cup holder will surely be useful for every parent!
Light aluminum frame
The stroller frame is made of aluminum, which makes it extremely light and easy to carry.
Lock against unfolding
The lock protects the stroller against unexpected unfolding during transport.
Specifications
Dimensions:
Materials:
Aluminium

Lightweight aluminium frame

300D polyester

Easy to clean

Rubber

A rubber puncture-resistant tyre filled with EVA foam
Materials
Aluminium

Lightweight aluminium frame

300D polyester

Easy to clean

Rubber

A rubber puncture-resistant tyre filled with EVA foam
Additional data
| | |
| --- | --- |
| Weight: | 10,5 kg |
| Dimensions: | |
| Wheel dimensions: | rear – 25 cm, front – 17 cm |
| Cocoon dimensions: | 80 x 35 cm (height: 18 cm) |
| Stroller dimensions: | 82 x 60 cm (height: min. 102 cm, max. 112 cm) |
| Folded stroller dimensions: | 82 x 60 cm (height: 40 cm) |
| Backrest: | 53 cm (height) x 36 cm (width) |
| Seat | 26 cm (height) x 38 cm (width) |
| Footrest: | 17 cm (height) x 30 cm (width) |
| Standars: | EN 1888 |
| Included: | cocoon, rain cover, mosquito net, mosquito net, cup holder and adapters |
Did you buy this product?
Share your opinion
EVOLUTION COCOON 2-in-1 multi-functional pushchair
With the EVOLUTION COCOON 2-in-1 pushchair, every walk will be a real pleasure, irrespective of the time of year and your child's age! The pushchair combines a carrycot and a stroller and is ideal for shorter and longer trips. The soft carrycot gets placed on the seat in the lie-flat position and clipped in using the straps. It's completely safe and very practical. The also set comes with the following accessories: comfortable leg warmer, mosquito net, rain cover and practical cup holder, which is handy for parents.
Versatile. The EVOLUTION COCOON 2-in-1 pushchair combines the benefits of a comfortable, soft carrycot for littlies and a lightweight stroller. Thanks to this, your child can use it from birth, irrespective of the time of year. The cocoon carrycot takes up less space than a classic one, while providing great comfort for your baby. In addition, in the stroller mode, the seat can be installed facing towards or away from the direction of travel. The adjustable backrest allows you to choose one of three options – from the lie-flat position to the sitting one. The same applies to the footrest, which has four adjustment options to best tailor it to your pride and joy.
Convenient. EVOLUTION COCOON 2-in-1 is a pushchair that'll first and foremost ensure your baby is comfortable, without forgetting about you in the process. Your littlie will love the comfortable seat and excellent shock absorption provided by the rubber wheels filled with puncture-resistant foam. The front wheels swivel 360 degrees and can be locked to drive straight. On hot days you can take advantage of the extendable hood made of UPF 50+ material and the option of increasing air flow inside the pushchair. It's also great when it starts raining, because it's completely waterproof. You'll love the telescopic handle with four adjustment options and the CLICK & FOLD mechanism under the seat that enables you to fold the pushchair with one hand. Also very handy is the large shopping basket under the pushchair, which holds up to 4 kg.
Safe and durable. The pushchair is designed so that your child is as safe and comfortable as possible. This is guaranteed by the five-point safety harness with soft shoulder pads and crotch cover. The sturdy aluminium pushchair frame is lightweight yet extremely durable. It also features a lock that prevents the pushchair from spontaneous unfolding during transport.