Children's room
Bookshelf RACOON
The lowest price of the last 30 days before the discount:
Product available only by pre-order
At this time you have the opportunity to pre-order this product through our official website.
Pre-orders Closed
Unfortunately, we are unable to accept orders in excess of the quantity our store expects to receive. Once all available pre-order slots are filled, we will not be able to accept new orders for our products.
Main advantages
Roomy, with drawers included
Height adjusted to the child
Versatile design
Children's bookshelf with shelves for books and containers included
Children's bookshelf with shelves for books and containers included
The RACOON bookshelf is unique and timeless. The versatile design and children's features combined with shelves and containers make it the perfect practical and multifunctional piece of furniture. It can be used to store children's books, toys or clothes.
Key benefits
Designed in Europe
The European New Product Development Department makes sure that products offered by Kinderkraft are as good as possible in terms of functionality and safety, and that they follow the latest design trends. The department is made up of competent people with many years of experience in the children's products industry, and many of them are parents.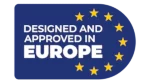 Key features
Unique, roomy and practical
The design of the bookshelf and containers of various sizes allow you to nicely store toys, books and clothes.
Height adjusted to the child
The RACOON children's bookshelf can be used freely by your child. They can independently take off items even from the top shelf.
Compact
The bookshelf is roomy but small – it'll fit into even a small bedroom.
Specifications
Dimensions:
Materials:
Powder-coated steel

Making the structure more stable

Polyester

Resistant to ripping

MDF board

Lacquered, sturdy
Materials
Powder-coated steel

Making the structure more stable

Polyester

Resistant to ripping

MDF board

Lacquered, sturdy
Additional data
| | |
| --- | --- |
| Brand | Kinderkraft |
| Model | RACOON |
| Dimensions | 34x80x100 cm |
| Weight | 12,1 kg |
| Package dimensions / weight | 42 x 13.5 x 109 cm / 13 kg |
Instructions
Video instruction
Text instruction
The presented video is not a commercial offer, it is only made for preview purposes. It applies to a group of products with a similar or the same assembly, slight differences may appear (e.g. no accessories).
Download
Did you buy this product?
Share your opinion
RACOON
We would like to present a practical RACOON rack with containers. It is an unusual, timeless piece of furniture that will not only help you keep order in your child's room - it will also teach it how to be independent. The RACOON rack is not too high - it is less than a meter high, so that a child who can walk independently would be able to reach its shelves. Universal design and children's accents in combination with shelves and containers make it a practical and multifunctional piece of furniture. You can store both the books and baby toys in it. It has built-in, soft shelves, perfect for arranging books so that the child can see their covers. In addition, the set includes as many as 6 containers made of polyester - 2 large and 4 smaller ones. You can easily organize all the toys together with the child.
ERACOON children's rack
Thanks to the RACOON rack with containers, your baby's room will look well-organized and tidy! The rack has been designed with both parents and the youngest children in mind. Its design allows them to use the piece of furniture independently. Your child can, therefore, boldly reach for its favourite toys or even books, depending on the needs. The containers that are part of the set may also come in handy, with their size adjusted to the needs of your child and your own. The set includes as many as six containers - two larger ones measuring 34.5 x 30.5 cm and four smaller ones measuring 19.5 x 17.5 cm. In addition to the containers, the RACOON rack also includes four built-in fabric shelves, which are great for storing your child's favourite books, for example. Their covers will be perfectly visible and will make the choice easier for the child.
Timeless design. The rack is characterized not only by a large capacity. It is also a beautiful addition to the home space that will add charm to your baby's room. RACOON is characterized by a universal design, so it can fit any interior, regardless of its decor. In order to give your little one more fun, the side of the rack is decorated with the print of a cute raccoon holding a balloon. The universal style will surely bring a smile to your child's face every day!
High quality of workmanship. The RACOON rack is durable and solidly constructed. Both powder-coated steel and lacquered MDF board are safe for children. The containers for all kinds of items are made of polyester. It is a tear-resistant and easy to clean material. Therefore, the whole thing will serve your child for a long time. Additionally, the RACOON rack should be attached to wall with screws. This increases its stability, and therefore also the safety of your baby during play!
Compact dimensions. The rack can be adapted to most places, even in the smallest children's rooms. Its dimensions are 38 x 80 x 100 cm, and it weighs just over 12 kg. RACOON rack is also an extremely capacious piece of furniture. You can keep many items necessary for your child in it - from clothes to toys.
How to organize a child's room?