Child
Car seat JUNIOR FIX i-Size
The lowest price of the last 30 days before the discount:
Product available only by pre-order
At this time you have the opportunity to pre-order this product through our official website.
Pre-orders Closed
Unfortunately, we are unable to accept orders in excess of the quantity our store expects to receive. Once all available pre-order slots are filled, we will not be able to accept new orders for our products.
Free delivery from £50
Buy by 12 am - delivery in 4 business days
Pay in a simple, fast and more secure way
Main advantages
Latest R129 i-Size safety standard
For children 100-150 cm tall (3.5-12 years)
Dedicated safety systems
ISOFIX or car seat belt
Front Way Facing (FWF) installation
Latest certification - a new level of safety
Latest certification - a new level of safety
We present you a JUNIOR FIX - a car seat compliant with the latest R129 i-Size safety standard. It has been designed for children 100-150 cm tall (3.5-12 years). Its overarching mission is to ensure your child's safe and comfortable journey. It is equipped with a dedicated safety systems - SIDE PROTECT SYSTEM, so fortified side protection that absorbs the energy generated during the collision. They protect the child's sensitive spine and shoulders well. The head is protected by the H-GUARD SYSTEM: reinforced 3-layer headrest that, thanks to the 10-point adjustment, can be adjusted better to the little one's height with just one hand. The car seat can be installed using the ISOFIX system or, optionally, with a 3-point car seat belt.
Security
Certified safety

The JUNIOR FIX car seat was tested in more strict conditions than required by the standard (side and frontal collisions). It is compliant with the R129 i-Size standard - certification based on the most up-to-date standards that allows you to focus entirely on driving the car, knowing that your little one is safe and sound.

SIDE PROTECT SYSTEM I H-GUARD SYSTEM

The JUNIOR FIX car seat is equipped with the SPS system - reinforced side protection secures little one's fragile arms and spine well during the collision. The car seat's construction absorbs the impact energy during side collisions. A well-fitting 3-layer headrest with additional memory foam protects the sensitive head of a child during a car crash. It absorbs energy, preventing it from reaching the little one's head.

Easy installation

Thanks to the ISOFIX connectors, you can quickly and correctly install the car seat in a car. The car seat is equipped with an indicator that shows a green colour once the JUNIOR FIX is installed correctly. The connectors are adjustable, so in case of a need, you can fix the car seat using the car seat belts if your car doesn't have the ISOFIX system. You can also easily fit the car seat's backrest to the car seat bench.

Adjustable headrest

The headrest has a 10-point adjustment. In just a few seconds, you can set it on a chosen level - all that using one hand. Remember that only a correctly fitted headrest has a chance to protect the child's head during a car accident perfectly!
Key benefits
Designed in Europe
The European New Product Development Department makes sure that products offered by Kinderkraft are as good as possible in terms of functionality and safety, and that they follow the latest design trends. The department is made up of competent people with many years of experience in the children's products industry, and many of them are parents.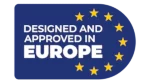 Key features
Wide seat
The seat is wide and comfortable as it was made out of soft, high-quality fabrics. The child will feel comfortable during both short car rides and longer journeys. The cover can be easily removed for washing - thanks to which you can keep the car seat clean and tidy for years.
Product features - Video
The presented video is not a commercial offer, it is only made for preview purposes. It applies to a group of products with a similar or the same assembly, slight differences may appear (e.g. no accessories).
Specifications
Dimensions:
Additional data
| | |
| --- | --- |
| Child's age/weight/height: | 100-150 cm (3,5-12 years) |
| Product weight: | 6.4 kg |
| product dimensions: (dł. x szer. x wys.) | |
| Folded: | 41 x 44 x 61 cm |
| Unfolded: | 41 x 44 x 80 cm |
Did you buy this product?
Share your opinion