9-36 kg
Car Seat ONETO 3 2021
Main advantages
The seat ensures the highest class of comfortable journey for children weighing 9-36 kg. EU attestation ECE R44/04. It is equipped with ISOFIX + Top tether fixing system, side bumpers convenient storage compartment for belts.
Certificates
Crashtested
All Kinderkraft child safety seats are subjected to rigorous crash tests by the renowned Dutch TASS INTERNATIONAL Institute. Even after they have been placed on the market, they are subjected to further, multi-stage, inspections.
ADAC
The ONETO 3 child safety seat scored 2.8 in the ADAC tests, which are 50% more demanding and stringent than the R4404 standard. The result of the assessment covered safety, handling, ergonomics, harmful substances, and cleaning. The car seat is among the top three car seats in the 75 – 150 cm range.
ÖAMTC
The ONETO 3 took 3rd place in its weight category, gaining the rating of 2.8. The result of this assessment consisted of child safety, anchoring method, handling, ergonomics/comfort of the child in the seat, and contaminants. The product was tested by a renowned and specialised ÖAMTC organisation.
ECE R44.04
The ONETO 3 child safety seat was designed and manufactured in accordance with the UN ECE R44.04 requirements. The ONETO 3 meets the requirements in terms of robustness, functionality, ergonomic, and limits for element migration and flammability (which has been confirmed, among others, by tests in the renowned, independent Intertek laboratory).
Designed in Europe
The European New Product Development Department makes sure that products offered by Kinderkraft are as good as possible in terms of functionality and safety, and that they follow the latest design trends. The department is made up of competent people with many years of experience in the children's products industry, and many of them are parents.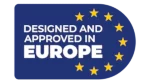 More than 1 million sold
More than one million of our products provide children across Europe with a comfortable and safe ride, and this number is growing steadily.
10 year guarantee
The seat is covered by: The 10-year warranty and the Safe Kids Car Seat Program.
Over 90% positive opinions
As many as 92% * of customers in various European countries have expressed a positive opinion about the ONETO 3 child safety seat! * Based on the analysis of customer ratings as at 09.06.2020, according to Google, Kinderkraft's AMAZON websites for the UK, Germany, Italy, France, Spain, and the Polish Allegro website. A positive opinion is understood as a 4/5 or 5/5 rating on the rating scales used by these portals; a negative opinion is understood as a 2/5 or 1/5 rating.
Key features
Reliable fixing
The seat guarantees safe and reliable position of the child by the ISOFIX system and TOP TETHER belt.
Soft, non-slip harness
5-point internal safety harness with anti-slip coating absorbs shocks, and the soft shoulder pads provide comfort to your child.
Side protection system
Bucket structure with a wide Side Protection System provide additional protection in case of a side impact.
Years of reliable service
9-step headrest adjustment enables you to easily adjust the car seat to the height of your small traveller.
Storage compartment for belts
With the convenient storage compartment for internal belts, you can easily adjust their length.
Comfortable backrest adjustment
Extensive, contoured backrest with 5-step adjustment ensuring that the child is always comfortable.
Other features
Easy cleaning
Cover of the seat is easily removed and washed in the washing machine.
Top tether
Additional fixing increasing passenger safety is provided by the TOP TETHER strap.
For small and big
With removable insert for the youngest children, the car seat may be used for safe travel of a child weighing 9-36 kg.
Product video
Specifications
Dimensions:
Materials:
Polyester

Stylish padding material with a modern design
Materials
Polyester

Stylish padding material with a modern design
Additional data
| | |
| --- | --- |
| Materials: | polyester 300D, polyethylene (HDPE) |
| Mounting systems: | ISOFIX + TOP TETHER |
| Weight group: | ECE group: I/II/III – for children weighing from 9 to 36 kg |
| Seat weight: | 12 kg |
| Dimensions: | 45 x 45 x 62 cm |
Instructions
Video instruction
Text instruction
Download
Did you buy this product?
Share your opinion
Product reviews (7)
User reviews (7)
Great customer service, the delivery was fast and we are very happy with the purchase! The car seat is easy to install and has lots of amazing features.

My friend recommended it to me so I bought this car seat and I really like it.

Safe and secure, it's everything we wanted, highly recommend!

Great car seat, worth the price. Would recommend.

Definitely worth the price. The quality is amazing and it feels extra safe for my little one.

I was surprised how well made this product is. It's very comfortable and does the job. Easy for travel. Overall, this is a great car seat!

Very happy with it. My little boy is 5 and absolutely looves this car seat. I hope it will last for a very long time.
All reviews
ONETO3 2021
The ONETO3 2021 car seat is a safe and modern solution for active families. Its safety is confirmed by the high ratings in ADAC tests. The SIDE PROTECT SYSTEM, which provides additional reinforcement for the sides of the seat, will protect your little passenger. ONETO3 2021 is equipped with the ISOFIX system, which enables easy affixing and decreases the risk of incorrect installation. The car seat is suitable for children in three weight groups – from 9 kg to 36 kg. The adjustable head restraint and special inserts mean that the car seat grows with your baby. The padding is made of high-quality material. The magnetic clips on the sides hold the safety harness buckles to make it easier for you to put your little one inside.
Safety. In ONETO3 2021, safe installation is easier thanks to the ISOFIX fitting system and TOP TETHER belt. The reinforced side protection and shell, which make up the SIDE PROTECT SYSTEM, provide additional protection in the event of a side collision. You secure your baby with the five-point safety harness. When your little one gets older, you can secure them using a three-point car seat belt. The safety of the ONETO3 2021 car seat is confirmed ADAC and ÖAMTC certificates. Like all of Kinderkraft's car seats, ONETO3 2021 has been subjected to rigorous safety testing by TASS.
Convenience. ONETO3 has two comfortable and soft inserts for smaller children. When you remove them, older passengers can use the wide and comfortable seat. The non-slip pads mean that the safety harness always remains in the correct position. And the magnetic clips sewn into the sides of the seat to hold the safety harness will make it easier for you to put your baby in and secure them. The five-step adjustment of the angle of incline of the backrest will increase your youngster's safety during car trips.
Functionality. The head restraint is adjustable – you can set it at 10 different heights within a range of 15 cm. The backrest of ONETO3 has five incline positions that you can change between using one button. The convenient compartment for the internal safety harness allows you to easily put it away after adjusting. Thanks to its convenient size, the car seat will fit in any car. Its dimensions are 45 x 45 x 62 (77) cm.
Cleaning and materials. The lightweight frame is made of two durable materials: the base and back – HDPE, the head restraint – PP. And the cover is made of material that's resistant to dirt. It's designed in such a way as to make it easy to remove and wash. Please use a gentle machine wash cycle and a maximum temperature of 30°C.
Car seat. Which one to choose?