Manual
Bouncer rocker MIMI
The lowest price of the last 30 days before the discount:
Product available only by pre-order
At this time you have the opportunity to pre-order this product through our official website.
Pre-orders Closed
Unfortunately, we are unable to accept orders in excess of the quantity our store expects to receive. Once all available pre-order slots are filled, we will not be able to accept new orders for our products.
Free delivery from £50
Buy by 12 am - delivery in 4 business days
Pay in a simple, fast and more secure way
Main advantages
A minimalist bouncer for your baby
Baby's natural movements set the bouncer in motion without unnecessary stimuli
3-stage adjustable backrest
Very light, folds up easily - ideal for travelling
Detachable toy bar with 2 toys
A bouncer that moves to the rhythm of your baby
A bouncer that moves to the rhythm of your baby
MIMI is a minimalist bouncer that will ensure your baby's comfort and relaxation in the right environment. It will help to soothe the baby even during very anxious moments, and thanks to the lack of excessive stimuli the baby has a chance to calm down faster. However, the baby has at its disposal a detachable toy bar with 2 toys, which will make the time of relaxation more pleasant. The backrest of the MIMI can be adjusted in 3 stages, so you can easily adapt the bouncer to the needs of your little one. The comfortable seat with pleasant to the touch fabric distributes the child's weight evenly, encouraging a natural resting posture. The bouncer has harnesses and is very stable, so you can rest assured that your little one is safe.
Key benefits
Designed in Europe
The European New Product Development Department makes sure that products offered by Kinderkraft are as good as possible in terms of functionality and safety, and that they follow the latest design trends. The department is made up of competent people with many years of experience in the children's products industry, and many of them are parents.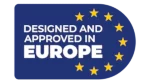 Key features
A natural rocking motion
The MIMI bouncer-rocker stimulates your baby's balance, and as they grows it will discover the relationship between its own body movements and the motion of the rocker. Without lights, melodies, or mechanical vibrations, the bouncer-rocker has a comforting effect on the baby, soothing it without unnecessary stimuli. The MIMI bouncer-rocker offers not only comfort and relaxation but also helps the baby develop their motor skills.
Healthy spine support
MIMI supports and promotes the correct posture of your child from their earliest stages of life. The stable yet comfortable seat evenly distributes the child's weight during rest, while the soft fabric gently cradles and supports its back, neck and head ensuring a natural and healthy posture.
A travel essential
The MIMI bouncer-rocker is a convenient solution both for home use as well as for travelling. It can be folded in a blink of an eye, takes up very little space, and is very lightweight. You can easily take the bouncer-rocker with you to lunch at a restaurant, a garden party or on longer trips.
Product features - Video
Specifications
Dimensions:
Materials:
Aluminium

Durable light aluminium frame

Quick-drying fabric

Pleasant-to-touch fabric that dries in a few hours
Materials
Aluminium

Durable light aluminium frame

Quick-drying fabric

Pleasant-to-touch fabric that dries in a few hours
Additional data
| | |
| --- | --- |
| Base (width x length): | 72 cm x 35 cm |
| Backrest (high): | 58,5/61,5/64,5 cm |
| Folded: | 82 cm x 40 cm x 19 cm |
| Seat dimensions: | 28 x 15 cm |
| Backrest dimensions: | 46,5 x 31 cm |
| Weight: | 2,35 kg |
| For children: | From birth to 9 kg (or when the child starts to sit up) |
Did you buy this product?
Share your opinion