From 24 months
Balance bike TOVE
The lowest price of the last 30 days before the discount:
Product available only by pre-order
At this time you have the opportunity to pre-order this product through our official website.
Pre-orders Closed
Unfortunately, we are unable to accept orders in excess of the quantity our store expects to receive. Once all available pre-order slots are filled, we will not be able to accept new orders for our products.
Free delivery from £50
Buy by 12 am - delivery in 4 business days
Pay in a simple, fast and more secure way
Main advantages
From 18 months of age
2 practical carry handles
Durable and lightweight - only 2 kg
Puncture-resistant lightweight foam wheels
Designed for children
Great assistant on walks
Great assistant on walks
The TOVE balance bike is distinguished by its unique design, durable yet lightweight materials, and low weight: only 2 kg. Suitable for children from 18 months up to 25 kg. It will support the development of balance and motor skills through play. TOVE has two carry handles, making it easier for parents to walk with children who get bored quickly. To assemble a balance bike, 3 simple steps are enough to prepare it for the road. TOVE has an adjustable seat and non-slip grips on the handlebars. The lightweight foam wheels are also a great advantage - they have no spokes and are pump-free.
Key benefits
Designed in Europe
The European New Product Development Department makes sure that products offered by Kinderkraft are as good as possible in terms of functionality and safety, and that they follow the latest design trends. The department is made up of competent people with many years of experience in the children's products industry, and many of them are parents.Dział tworzą kompetentni ludzie z wieloletnim doświadczeniem w branży dziecięcej, wielu z nich jest także rodzicami.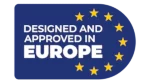 Key features
2 carry handles
Your toddler got tired on a walk and doesn't want to ride anymore? We know it - that's why the TOVE balance bike has as many as 2 comfortable carry handles.
Folding in 3 steps
TOVE can be folded in 3 simple steps. Your child can ride a moment after taking the bike out of the box.
Seat adjustment
Toddlers grow quickly - to make TOVE serve your child as long as possible, you can adjust the seat in the range of 30-35 cm
Specifications
Dimensions:
Materials:
Puncture-resistant wheels

Lightweight wheels made of EVA foam

Light and durable construction

The bike is made of PP + TPR plastic
Materials
Puncture-resistant wheels

Lightweight wheels made of EVA foam

Light and durable construction

The bike is made of PP + TPR plastic
Additional data
Child's age/weight/height:
From 18 months to 25 kg
Product weight:
2 kg
Product dimensions:
(L x W x H)

Assembled bike:
66,5 x 45 x 31 cm
Handlebar height:
45 cm
Seat adjustment:
30 - 35 cm
Wheel diameter:
20 cm
Seat:
18,5 x 11 cm
Did you buy this product?
Share your opinion