Tricycles
Tricycle SPINSTEP
Main advantages
360° swivel seat
Modular frame – grows with the child
Waterproof hood made of UPF50+ fabric
Adjustable distance between the seat and pedals
Turn every walk into an exciting adventure!
Turn every walk into an exciting adventure!
SPINSTEP is a 5-in-1 tricycle. Thanks to the modular frame, it's easy to adapt it to your child's skills. You can turn everyday walks into amazing, exciting and fun adventures. SPINSTEP is a great alternative to a stroller, which means you can actively spend time outdoors from when your child is nine months old.
Certificates
Designed in Europe
The European New Product Development Department makes sure that products offered by Kinderkraft are as good as possible in terms of functionality and safety, and that they follow the latest design trends. The department is made up of competent people with many years of experience in the children's products industry, and many of them are parents.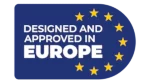 Made for Mums Toys Awards
MadeForMums in an online community for parents and mums-to-be that helps make the best, confident choices for children. It delivers both professional and parent's product reviews to ensure children's well-being in the most precious time of their lives.
Key features
5-in-1 tricycle
The SPINSTEP tricycle has a modular frame. This means you can easily remove individual elements without using any tools, and so adapt the trike to your child's improving skills. SPINSTEP will accompany your child both on their first birthday and their first independent ride!
Stroller alternative
SPINSTEP is a great alternative to a stroller. The soft seat swivels 360 degrees and can be installed facing towards or away from the direction of travel. You can actively spend time with your child even if they don't want to take their eyes off you.
Waterproof hood
The SPINSTEP tricycle has a large, extendable and waterproof hood. It's made of UPF50+ material. This means that the hood will protect your little one against both the rain and the hot sun.
Adjustable seat distance
SPINSTEP's seat is adjustable so that it'll last your child for even longer. If your little one can't quite reach the pedals yet, all you need to do is move the seat a little closer to the handlebar. And when they get older, you can move it back using the knob.
Safe riding
The soft seat has an adjustable three-point safety harness with pads. The tricycle also feature an easy-to-use guard rail that opens from the front. You'll also have easy access to two brakes on the rear wheels.
Free wheel functio
The SPINSTEP tricycle has been designed with great fun and safety in mind – it's equipped with the free wheel function. This means that you can disconnect the drive of the front wheel from the pedals – your little one can pedal vigorously, but you remain in control of the speed.
Other features
Foldable footrest
When your youngster gets tired from their quick pedalling, you don't have to carry them! All you need to do is unfold the footrest so that your child can comfortably rest their feet. Your little one can relax while still enjoying the surroundings.
Maintenance-free, durable wheel
The wheels don't require pumping. They're large and are great both on forest trails and for city activities.
Adjustable parent handle
SPINSTEP also provides comfort for parents – the handle is finished with foam that's pleasant to the touch and ensures a firm grip. Because of the three-point adjustment, it's easy to tailor to your height.
Easy to fold
The trike is great for walks, and when it's time for a different type of playing, SPINSTEP can easily be folded, carried and put away into a wardrobe, because it's compact when folded. In addition, the folding function makes it easy to take on trips.
Two practical basket
The SPINSTEP tricycle features two baskets (a large one at the rear, and a smaller one at the front) to fit all your child's items that you need to take on your walk.
Handy accessorie
The set also includes a bag that you can hang on the parent handle. In addition, SPINSTEP also comes with a loud bell and cup holder that attaches to the handle.
Product video
Additional data
| | |
| --- | --- |
| Unfolded bike dimensions | Length: 106 cm Height: 103 cm Width: 50,5 cm |
| Folded bike dimensions | Length: 71,5 cm Height: 56 cm Width: 51 cm |
| Wheels (diameter) | Front: 24,5 cm Rear: 21 cm |
| Seat dimensions | Width: 17,5 cm Depth: 14 cm |
| Adjustment of parent handle | 3 positions 93-108 cm |
| Seat | Width: 32 cm Height: 50 cm |
| Weight | 10 kg |
| For children | from 9 months to 5 years |
Instructions
Video instruction
Text instruction
Download
Did you buy this product?
Share your opinion
Product reviews (7)
User reviews (7)
It's very easy to adjust, great that is has a waterproof hood. Money very well spent.

Extra safe and comfy for my baby, love it!

What a great buy! My favourite purchase ever. This tricycle is everything.

My baby seemed to enjoy this product which is very important to me! Worth the price.

If you look for a good quality tricycle then this is the one! I've tried few before as I have 4 kids and it's the best one we've had so far. Amazing!

Feels very safe and solid. I'm in love with the green color, it looks perfect. It makes our walks so much more fun.

very handy, good quality, surprisingly lots of storage space. highly recommend!
All reviews