From 12 months
Tricycle MINIBI
The lowest price of the last 30 days before the discount:
Product available only by pre-order
At this time you have the opportunity to pre-order this product through our official website.
Pre-orders Closed
Unfortunately, we are unable to accept orders in excess of the quantity our store expects to receive. Once all available pre-order slots are filled, we will not be able to accept new orders for our products.
Free delivery from £50
Buy by 12 am - delivery in 4 business days
Pay in a simple, fast and more secure way
Main advantages
2-in-1 - trike and ride on
From 12 months
Small, lightweight, comfortable
For home and outdoors
Teaches coordination
Discover MINIBI
Discover MINIBI
Discover MINIBI – the first gorgeous push toy for your child! Your little one will fall in love with it at first sight – the design is stunning and will encourage active play both at home and outdoors. The soft seat, puncture-resistant wheels and beautiful frame all contribute to a fantastic adventure. As a push toy, MINIBI supports learning to walk and balance, and then – once your youngster is able to take their first independent steps – it'll be a safe ride-on and mini trike. The low, rounded frame allows children to learn through play already from the age of 12 months. MINIBI is ready to ride: the easy assembly means the trike can be used immediately after receiving the product. And thanks to the easy cleaning, MINIBI will always encourage your little one to be active thanks to its colours and good looks.
Key benefits
Designed in Europe
The European New Product Development Department makes sure that products offered by Kinderkraft are as good as possible in terms of functionality and safety, and that they follow the latest design trends. The department is made up of competent people with many years of experience in the children's products industry, and many of them are parents.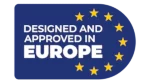 Key features
Learning through play
The combination of a ride on, balance bike and trike means your little one will have lots of fun learning to ride. Your child will train their balance, strengthen their muscles and improve their motor coordination.
Lightweight design
The small size, low weight and lightweight design make MINIBI the ideal vehicle for youngsters - from 12 months and 74 cm in height. This means you can start your bike-riding adventure together sooner!
Wide foam wheels
The EVA foam wheels are ideal for both indoors and outdoors. They're durable and have good grip. At home, they won't scratch your floor, and are quiet. They don't require pumping up. The width of the wheels guarantees stability.
Other features
The ideal gift
The unique design and educational features make the MINIBI trike the perfect present. It'll delight both children and parents!
Made of safe materials
MINIBI is made of materials that have been tested for chemical and physical safety at the renowned Intertek laboratory.
Specifications
Dimensions:
Materials:
EVA foam

The wheels are made of puncture-resistant foam

Eco-leather

Soft seat that's pleasant to the touch
Materials
EVA foam

The wheels are made of puncture-resistant foam

Eco-leather

Soft seat that's pleasant to the touch
Additional data
| | |
| --- | --- |
| Child's age/weight/height: | 12 months / 29,1" |
| Product weight: | 2,1 kg |
| Product dimensions: (length x width x height): | 19,7 x 10 x 15,4" |
| Packaging dimensions: | 18,9 x 6,7 x 10,4" |
| Seat dimensions: | 5,1 x 8,5" |
| Distance from the ground to the seat: | 9,5-10,6" |
| Wheel diameter: | 5,5" |
| Wheel thickness: | 1,6" |
| Distance between front wheels: | 6,3" |
| Distance between handlebar and seat: | 6,3" |
Did you buy this product?
Share your opinion