Metal balance bikes
Balance bike SPACE 2021
Main advantages
Handbrake on the handlebar
Practical footrest
Adjustable seat and handlebar
Safe fun and learning to ride in one product
Safe fun and learning to ride in one product
SPACE is a unique balance bike – it develops your child's balance skills while providing them with great fun. It has a handbrake on the handlebar, and footrests. SPACE teaches and entertains on every walk, and thanks to the low frame, it's suitable for children from just 80 cm!
Certificates
Designed in Europe
The European New Product Development Department makes sure that products offered by Kinderkraft are as good as possible in terms of functionality and safety, and that they follow the latest design trends. The department is made up of competent people with many years of experience in the children's products industry, and many of them are parents.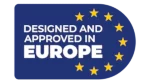 Key features
Lightweight frame
SPACE features a lightweight, durable steel frame. It's low, meaning children as short as 80 cm can get on without a problem.
Puncture-resistant tyres
Even the most active walks won't be risky for the wheels. They're made of puncture-resistant foam that's perfect for uneven terrain. You don't need to pump them up.
Handlebar lock
The bike features a handlebar lock. This eliminates the risk of excessive, uncontrolled turning while riding – it decreases the risk of falls and gives greater control.
Handbrake
The right handle features a drum handbrake. Your little one can stop the bike at any time without much difficulty.
Practical footrest
The SPACE balance bike features a comfortable footrest with non-slip material. When your child is riding down a hill, they won't have to hold their legs in the air.
Adjustable seat and handlebar
This balance bike has been designed with quickly growing children in mind. The seat and handlebar have a large range of adjustment. This means you can easily adapt the SPACE bike to your little one's height.
Other features
Bag on the handlebar
Thanks to the material bag that hangs on the handlebar, any treasures your youngster finds on walks can be put away.
Rubber handles
The handlebar of the SPACE bike features rubber handles to ensure your child has a firm grip.
Bell
When your youngster learns to gain speed, passersby will appreciate the loud bell. Your child can easily announce their approach.
Product video
Specifications
Dimensions:
Materials:
Steel

Durable, low frame and handlebar

Plastic

Elements that complete the bike

EVA foam

Puncture-resistant, maintenance-free wheels
Materials
Steel

Durable, low frame and handlebar

Plastic

Elements that complete the bike

EVA foam

Puncture-resistant, maintenance-free wheels
Additional data
| | |
| --- | --- |
| Dimensions | height: 59cm, length 84cm, width (handlebars): 36cm |
| Standards | Product tested and approved according to European safety standards EN 71-1. |
| Included | bell, textile bag on the handlebars, hand brake, footrests |
| Product weight | 3,6 kg |
| For children | up to 80 cm tall |
Instructions
Video instruction
Text instruction
Download
Did you buy this product?
Share your opinion
Product reviews (4)
User reviews (4)
Just great! It has a lot of handy features and our baby says it's the best present ever :)

We love it, it's practical and our baby has so much fun

This is the perfect bike for little ones. It adjusts so can be used for quite a while. Would highly recommend!

My 5 yr old is overjoyed! Amazing balance bike.
All reviews