Metal balance bikes
Balance bike GOSWIFT
The lowest price of the last 30 days before the discount:
Product available only by pre-order
At this time you have the opportunity to pre-order this product through our official website.
Pre-orders Closed
Unfortunately, we are unable to accept orders in excess of the quantity our store expects to receive. Once all available pre-order slots are filled, we will not be able to accept new orders for our products.
Free delivery from £50
Buy by 12 am - delivery in 4 business days
Pay in a simple, fast and more secure way
Main advantages
Ultra-lightweight and durable thanks to a magnesium frame
Large, air-filled rubber wheels with ball bearings suitable for all sorts of terrains
Comfortable handles, soft seat – ideal for learning to ride
Stylish lines of the bike, unique design
Perfect for little athletes athletes
Perfect for little athletes athletes
The GOSWIFT balance bike is ideal for little ones who have lots of energy and love to be active. The dynamic, sporty design and air-filled wheels with ball bearings make it the perfect bike for learning to ride on almost any terrain. If you want to instil your passion for exercise in your child, GOSWIFT is the perfect tool! Fast, lightweight, sporty – perfect for learning to ride in a sporty style!
Key benefits
Red Dot Award
GOSWIFT won a prestigious award, called the Oscar of Design - Red Dot Award 2021 in the children's bikes category. This award positively evaluates not only the aesthetics of the bike, but also its adjustment to the needs of the child and the parent.
Toy of the Year
GOSWIFT also won the prestigious Toy of the Year 2020 award. This distinction is a mark of quality, helping parents wisely choose safe toys that stimulate their child's development.
Designed in Europe
The European New Product Development Department makes sure that products offered by Kinderkraft are as good as possible in terms of functionality and safety, and that they follow the latest design trends. The department is made up of competent people with many years of experience in the children's products industry, and many of them are parents.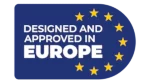 Mother&Baby 2022:
One of the most significant awards in the business - the Mother&Baby Awards test and highlight the best baby products on the market each year. Parents are looking forward to the results to make sure they are buying the best possible products for their children.
Made for Mums Toys Awards:
MadeForMums in an online community for parents and mums-to-be that helps make the best, confident choices for children. It delivers both professional and parent's product reviews to ensure children's well-being in the most precious time of their lives.
Key features
A bike for little athlete
GOSWIFT stands out thanks to its smooth lines and round shapes that improve riding dynamics. Do you want your child to keep up with you during physical activity? Choose GOSWIFT – a balance bike that's perfect for learning to ride and independent riding by your side!
Ultra-lightweight frame
The GOSWIFT balance bike weighs less than four kilograms. It'll be easier for your child to manoeuvre it, and for parents to carry it when your youngster decides to discover the world on their own two feet.
Magnesium frame
The magnesium alloy makes GOSWIFT ultra lightweight: the specific weight of magnesium alloy is one-third less than aluminium and three-quarters less than steel! In addition, the frame is great at absorbing vibrations, and is 100% recyclable and reusable. The frame is durable and resistant to damage and corrosion. This means that GOSWIFT will serve you for years!
Other features
Safe and functional frame
A sporty design isn't everything. The rounded edges and no protruding frame elements mean that the GOSWIFT bike enables your child to safely learn how to ride. The low, pedal-free frame makes getting on and off easy even for small children.
Non-slip handle
The handles are covered with a non-slip, rubber capping to increase safety. They allow your child to have a better and firmer grip – your little one will feel like they're riding a real sports motorbike!
Loud bell
Learning to ride a bike is also learning how to behave while in motion. The loud bell (included in the set) informs passers-by that a future sports star is approaching.
Product features - Video
The presented video is not a commercial offer, it is only made for preview purposes. It applies to a group of products with a similar or the same assembly, slight differences may appear (e.g. no accessories).
Specifications
Dimensions:
Additional data
| | |
| --- | --- |
| Length | 86 cm |
| Frame length | 58,5 cm |
| Height | 55 cm. |
| Width | 33 cm |
| Height of handlebar from the ground: | 54,5 cm |
| Wheel diameter: | 12 inch / 30 cm |
| Height of seat from the ground: | 33 cm |
| Seat height adjustment range: | 34 – 42 cm |
| Distance from the ground to the seat: | 34,5 cm |
| Tricycle weigh: | 3,8 kg |
| For children | 3 to 6 years |
Instructions
Video instruction
Text instruction
The presented video is not a commercial offer, it is only made for preview purposes. It applies to a group of products with a similar or the same assembly, slight differences may appear (e.g. no accessories).
Download
Did you buy this product?
Share your opinion
GOSWIFT BALANCE BIKE
The GOSWIFT balance bike is perfect for learning motor coordination. The sporty balance bike has a unique design - a dynamic line in a minimalistic design. Your toddler will be encouraged to train not only by the looks of GOSWIFT. Its frame is made of magnesium alloy, a lightweight and durable material resistant to shocks, corrosion and impacts. It will help your child to learn to balance and manoeuvre easily. GOSWIFT is suitable for children from 3 years of age. It has air-filled tyres with ball bearings, without spokes. This bike is light and stable at the same time. Safety is guaranteed by rubber tyres, non-slip grips and a handlebar with limited turn radius.
Learning to ride. The GOSWIFT balance bike is the perfect first bike for the youngest kids who love physical activity. The proper design will help your child quickly learn to balance and improve motor skills. Learning to balance, turn and avoid obstacles will help your child switch to a traditional bike faster in the future.
Materials. The frame is made of magnesium alloy, which is light and durable, and additionally perfectly dampens vibrations. The seat is made of soft material and the 12 inch air-filled tyres are made of rubber, perfect for forest paths and city walkways. The handlebar has non-slip rubber grips.
Comfort. The entire bike has been designed so that it can be easily adjusted to the child's height. The seat has a wide range of adjustment. We can change its height within the range from 34 cm to 42 cm. The GOSWIFT balance bike is distinguished by a sporty and dynamic design. There are no protruding elements or sharp edges. The bike is so light that a child can carry it on its own. It weighs only 3.8 kg. The seat is ergonomic and soft, which increases the comfort of a small cyclist and protects him from chaffing. All terrain air-filled tyres with ball bearings ensure smooth riding.
Handlebar. To ensure safe and fast riding, GOSWIFT is equipped with a handlebar with a limited turn radius. It protects the little cyclist from sudden loss of balance. The handlebar has pleasant to the touch, non-slip grips that will give your toddler a firm grip. There is a bicycle bell on it, too.