Travel Cots and Cradles
Travel Cot with accessories LEODY
Main advantages
Two base levels
Practical accessories included in the set
Compact when folded
Peaceful sleep even when away from home
Peaceful sleep even when away from home
The LEODY travel cot with accessories is a real operations centre. The practical accessories allow you to tend to your little one on trips. The two mattress levels enable you to tailor the level to your child's development and needs, and the special function lets you quickly transform the cot into a cradle. See for yourself why it's a must-have!
Certificates
Designed in Europe
The European New Product Development Department makes sure that products offered by Kinderkraft are as good as possible in terms of functionality and safety, and that they follow the latest design trends. The department is made up of competent people with many years of experience in the children's products industry, and many of them are parents.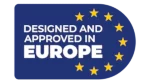 Key features
Quick folding
LEODY is, first and foremost, a travel cot. It has a quick folding and unfolding mechanism that allows you to save time while you're frantically packing.
Two mattress levels
In LEODY with accessories, you can adjust the height of the base. This provides relief for your back because you don't have to bend over too far, and allows you to tailor the height of the mattress to your youngster's development.
Rocking function
The LEODY travel cot can be transformed into a cradle in just a few moments. The gentle rocking will soothe your baby and make it easier for them to fall asleep when away from home.
Interactive mobile
The cot comes with a mobile with sound, lights and toys. It encourages your child to concentrate and stretch out their hands to reach the toys. It stimulates their senses and will keep them entertained for longer.
Accessories
By ułatwić rodzicom dbanie o maluszka, do LEODY dołączony jest przewijak oraz praktyczne półki na pieluszki i mokre chusteczki. Wszystko będziesz mieć pod ręką.
Mesh sides
The mesh sides let you keep an eye on your youngster while ensuring they have adequate air flow even on hot nights.
Wheels
The rear legs have wheels to make moving the cot from one place to another a breeze. Each wheel features a sturdy brake.
Side access
When your little one gets older, the side access, which closes with a zipper, lets them get out of the cot on their own. They'll feel confident if you allow them a moment of independence.
Bag
The bag makes the cot easy to transport. It folds to a compact size (76 x 20 x 20 cm), meaning LEODY will easily fit into a car boot.
Product video
Specifications
Dimensions:
Materials:
Steel

Stable and durable steel frame

Plastic

The mobile and some of the elements are made of plastic that's safe for children

Polyester

Easy-to-clean cover and toys
Materials
Steel

Stable and durable steel frame

Plastic

The mobile and some of the elements are made of plastic that's safe for children

Polyester

Easy-to-clean cover and toys
Additional data
| | |
| --- | --- |
| Dimensions: | 126 x 65 x 76 (cm) |
| Mattress dimensions: | 120 x 60 cm |
| Dimensions of the changing table: | 47 x 68, 5 cm, load 11kg. |
| Weight: | 14,65 kg |
| Purpose of the product: | The changing table is designed for children up to 12 months and a maximum weight of 11 kg. |
| High base: | until your child starts sitting up, standing up, pulling themselves up and kneeling unaided. |
| Recommended size of extra mattress: | 120 x 60 x 8 cm. |
| Playpen function (lowered base): | max. 36 m. i 15 kg. |
Did you buy this product?
Share your opinion
Product reviews (6)
User reviews (6)
Love the rocking function. It's also easy to fold and very light-weight, I'm happy with the purchase.

The positive reviews are 100% accurate. This really is a great travel cot.

Very nice product, we use it often and the quality is amazing!

Easy to use, sturdy, definitely worth the price

Everything we wanted! My baby sleeps in it so comfortably. It's very handy and practical. Would highly recommend!

That is a real lifesaver! I'm on baby nr 2 and I still use this travel cot because it's just the best. Couldn't recommend it more.
All reviews