High Chairs
Feeding chair LIVY & CALMEE
The lowest price of the last 30 days before the discount:
Product available only by pre-order
At this time you have the opportunity to pre-order this product through our official website.
Pre-orders Closed
Unfortunately, we are unable to accept orders in excess of the quantity our store expects to receive. Once all available pre-order slots are filled, we will not be able to accept new orders for our products.
Free delivery from £50
Buy by 12 am - delivery in 4 business days
Pay in a simple, fast and more secure way
Main advantages
4 i n1 – high bouncer, feeding chair, chair for a pre-schooler and an adult
From birth to 110 kg
Supports correct posture
Accessories included
Innovative Dutch design
Supports child's passions
Supports child's passions
LIVY feeding chair is discreet support for your baby at every stage of life. It will quickly become your favourite piece of furniture – 4 functions in one product make LIVY a chair for years to come. The high bouncer and the original feeding chair will serve you well during your baby's first years. When your child grows up, you can use the included hex key to turn LIVY into a chair for a pre-schooler and later even for an adult (up to 110 kg). LIVY supports the child's development during rest, first feeding attempts, creative passions and homework. The Dutch designers, Bas Otten and Camille de Vrede, have created a chair that combines the latest interior design trends with well-thought-out functional solutions and ergonomic principles. The profiled backrest supports the child's growing spine, and thanks to the 4-stage seat height adjustment, you can adjust LIVY to different tables. The chair also has adjustable depth and footrest.
KINDERKRAFT SELECT
The Kinderkraft Select line is all about excellent-quality finishes and the highest safety standards. It has been created to make your everyday life easier. It's designed to meet the needs of even the most-demanding parents and children.
Timeless design and functionality for many years
Selected solutions to all parenting challenges. Excellent products for daily walks, travels, and your little one's "first times".
Key benefits
Designed in Europe
The European New Product Development Department makes sure that products offered by Kinderkraft are as good as possible in terms of functionality and safety, and that they follow the latest design trends. The department is made up of competent people with many years of experience in the children's products industry, and many of them are parents.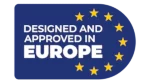 Key features
From birth to 110 kg
Babies often involve their parents in creative activities – that's why LIVY has a load capacity of up to 110 kg. Sit in the chair and take your little one on your lap to feed them in a safe and comfortable conditions.
Support for the spine
The profiled backrest and adjustable seat and footrest will allow you to adjust LIVY to the growing child while respecting the principles of ergonomics. This way your child will be able to indulge in their passions while keeping a straight back and correct posture.
Multi-level adjustment
The 4-stage seat height adjustment combined with the 3-stage depth adjustment and footrest adjustment allows for perfect customisation, allowing children of all ages to develop their creative projects at tables of different heights.
Other features
Creative and clean
The tray can easily be cleaned with a wet wipe. And the silicone pad can be washed in the dishwasher. LIVY is not afraid of paint, tomato soup or beetroot.
Specifications
Dimensions:
Materials:
Solid construction / Elegant wooden elements

aluminium, steel / oak wood

Double tray

Silicone mat and PP tray
Materials
Solid construction / Elegant wooden elements

aluminium, steel / oak wood

Double tray

Silicone mat and PP tray
Additional data
| | |
| --- | --- |
| Length: | 60 cm |
| Width: | 47 cm |
| Height: | 82 cm |
| Chair weight: | LIVY oak wood: 7,75 kg |
| | LIVY olive green, aster pink: 7,3 kg |
| Weight with bouncer: | LIVY oak wood with bouncer: 10,15 kg |
| | LIVY olive green, aster pink with bouncer: 9,7 kg |
Did you buy this product?
Share your opinion
4-IN-1 LIVY CHAIR (WITH A BOUNCER)
Kinderkraft presents LIVY 4 in 1! A unique chair that will accompany your child from birth through every stage of life - it has a load capacity of up to 110 kg! It functions as a high chair, feeding chair, chair for older children and a chair for teenagers. A parent can also sit on it comfortably and take the little one on his lap! This is one purchase for years.

The LIVY chair will serve as a comfortable piece of furniture for all children's activities - whether they are just drawing their first shapes or already assembling complicated aircraft models.

The years fly by, the children grow, and LIVY... will support their passions at all times.
Functionality The high bouncer is suitable for infants. They can rest in it and practice stretching out their arms and grasping thanks to the toys hanging from the bar. The bouncer can also be used without the highchair. It is also possible to buy LIVA without the bouncer.

The feeding chair is designed for children who can sit up independently. Thanks to the easy, 4-step height adjustment, you can fit LIVY to any table or kitchen top. A soft pillow provides good support for the baby's bottom. A convenient solution is the removable, non-slip tray cover, which can be washed in the dishwasher. The parent will feed the child comfortably, and the baby will also be able to play freely and participate in family life.

The adjustable footrest allows you to fit the chair to your growing child. When your little one becomes a pre-schooler, LIVY will "grow" with him! The seat depth can be adjusted in 3 levels to suit changing height and weight. LIVY will support your child's posture and care for their spine for years to come.

And when parents wants to help the little one, e.g. with drawing, they can easily sit on the chair with the child on their lap (up to 110 kg load!).

Supporting development is not only about the physical aspect. At every stage of a child's life, LIVY will be a companion for playing, learning, developing interests and an indispensable element of the room - for toddlers, pre-schoolers, schoolchildren and teenagers.
Design Kinderkraft invited Dutch designers to cooperate. Bas Otten and Camille de Vrede created a unique product - functional, in line with ergonomic principles and the latest trends in interior design.

How is this innovative approach expressed? Above all, in the versatility of a piece of furniture that will cleverly evolve through all stages of a child's life and adapt to changing needs.

The minimalist design will make the chair fit perfectly into any interior. Thanks to the use of aluminium and steel, LIVY has a solid and stable construction. It will successfully prove itself as a timeless piece of furniture.
Safety Safety is the most important thing for Kinderkraft. LIVY chair is equipped with 5-point, strong harnesses and a safety barrier that will keep even the most lively baby in place. All materials used to manufacture the chair meet safety requirements.

The silicone tray is suitable for food contact and contains no harmful substances (it is BPA-free) - your baby can eat directly from it. It's also non-slip - so the porridge bowl won't go anywhere!