Multifunctional
High chair FOLDEE
The lowest price of the last 30 days before the discount:
Product available only by pre-order
At this time you have the opportunity to pre-order this product through our official website.
Pre-orders Closed
Unfortunately, we are unable to accept orders in excess of the quantity our store expects to receive. Once all available pre-order slots are filled, we will not be able to accept new orders for our products.
Free delivery from £50
Buy by 12 am - delivery in 4 business days
Pay in a simple, fast and more secure way
Main advantages
Folding with one move
Compact sizes
3-point backrest adjustment
2-point footrest adjustment
Adjustable tray
One-step folding high chair
One-step folding high chair
This is FOLDEE - a foldable high chair perfect for mobile parents and small apartments. This stylish, mobile, and easy-to-clean high chair folds with one move. Do you want to go away somewhere? Or maybe your child tends to change their mind and sometimes likes to eat in the kitchen and the other time in the living room? With FOLDEE, that's not a problem! This high chair has been designed for comfortable meal eating. It has 3 backrest positions and 2 footrest positions; thanks to this, the little one will be able to keep the correct body posture and feel comfortable during meals. You can adjust the tray in 3 positions regarding the seat, and in case of a need, you can wash it under running water. The high chair has a 5-point harness making the little one always safe.
Key benefits
Designed in Europe
The European New Product Development Department makes sure that products offered by Kinderkraft are as good as possible in terms of functionality and safety, and that they follow the latest design trends. The department is made up of competent people with many years of experience in the children's products industry, and many of them are parents.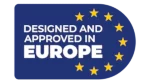 Key features
One-step folding
You can fold and unfold the high chair with one simple move to a compact size that facilitates high chair storage at home. With the FOLDEE, the feeding time will never surprise you. The little one, out of sudden, demands their meal? Unfold the FOLDEE with one move to be ready!
Carry handle
The carry handle and a lightweight facilitate moving the high chair from one room to another. You can feed your child wherever you want - in a living room, kitchen or dining room. The compact sizes after folding allow taking the FOLDEE on a journey.
Double tray
The FOLDEE high chair has an adjustable double tray. You can set it at one of chosen 3 distances from the seat and remove the top to wash it under running water. The tray is tested and approved for direct food contact.
Product features - Video
The presented video is not a commercial offer, it is only made for preview purposes. It applies to a group of products with a similar or the same assembly, slight differences may appear (e.g. no accessories).
Specifications
Dimensions:
Materials:
Easy to clean tray

Made of PP plastic

Quick-drying fabric

Polyester
Materials
Easy to clean tray

Made of PP plastic

Quick-drying fabric

Polyester
Additional data
| | |
| --- | --- |
| | From 6 up to 36 months |
| Product weight: | 5.9 kg |
| Product dimensions: (L x W x H) | |
| Folded: | 58 x 32 x 71 cm |
| Unfolded: | 58 x 75 x 93 cm |
Did you buy this product?
Share your opinion
FOLDEE high chair
FOLDEE is a stylish foldable high chair. One move is enough to fold the high chair and place it next to the wall or hide it in a closet. It is a remedy for parents with little space in an apartment or looking for a portable high chair.
Comfortable! This high chair ensures comfort and convenient eating. Thanks to the 3-point backrest adjustment, you can easily adapt the high chair to your child's needs. Besides, you can ensure your child's correct posture with a 2-point footrest adjustment. From a young age, you will also develop your child's habit of adopting the correct eating posture. The tray can be wiped with a wet cloth to remove even the most persistent stains. The tray can be set at 3 different distances from the seat, providing the child with enough space to eat.
Easy to clean! FOLDEE is made of easy-to-clean materials. It is enough to wipe with a wet cloth the quick-drying polyester to get rid of even the most persistent stains. Besides, you can completely remove the tray and wash it under running water.
Practical! FOLDEE is a high chair you can take on a trip, as it fits into your car boot. Besides, you can find a practical basket under the seat for small items like an extra bib or wet wipes. FOLDEE also has a carry handle which, together with the lightweight of the chair, facilitates moving it from one room to another.